Creamy Cauliflower Soup Recipe
Cheesy cauliflower soup is a hearty, yet light, 30-minute meal that is loaded with healthy veggies, a touch of cheesy goodness, and totally delicious! I love serving it with crusty bread & a drizzle of cream for richness. Cauliflower Cheese soup is a cozy meal that everyone will love!
Roasted cauliflower is the main ingredient in this comforting soup and taking the few extra minutes to roast it makes all the difference.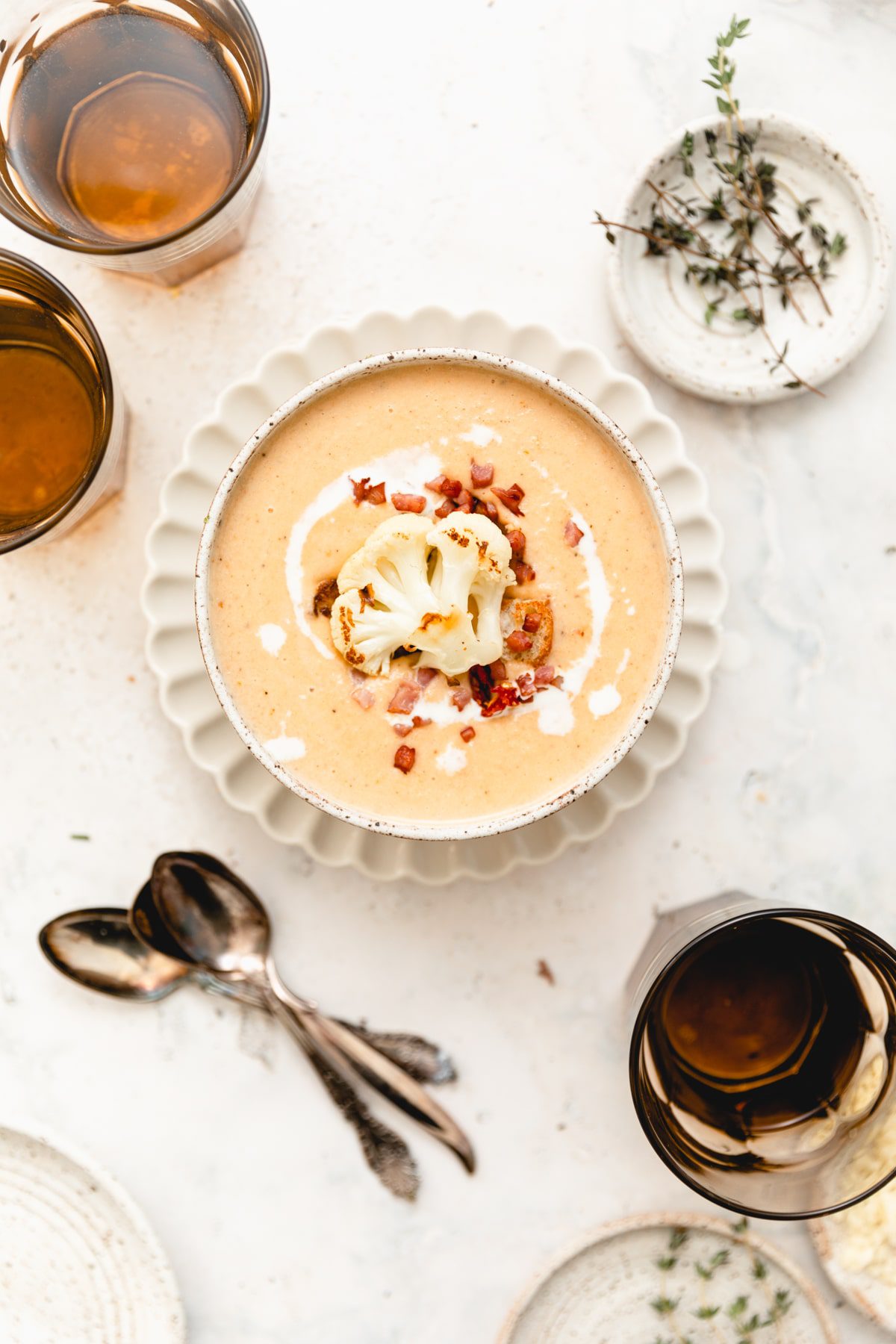 Thick and Rich Cauliflower Soup
Before getting started, I have a few tips for making this super yummy soup. For the BEST possible soup, follow these tricks!
Buy nice blocks of cheese. The key here is to get a really good block of cheese & shred it at home rather than buying pre-shredded cheese. This has anti-caking agents in it typically and it won't melt down nicely.
Add any herbs you want! The more herbs the better in my opinion. Thyme, sage, and oregano would all be delicious in here.
Balance with acid. To balance all of the richness, we need to cut it with a bit of acid. I find adding the sundried tomatoes to this dish is just what it needs. If you opt-out of those, add a squeeze of lemon!
Roast the cauliflower. Don't skip this part! It only takes a few minutes, but it makes all the difference.
How To Cut Up Cauliflower
For this recipe, I just grabbed a whole head of cauliflower. You could use the bagged cauliflower as well.
Simply remove the leaves on the outside and then carefully cut the cauliflower in half.
I then start picking off the florets of cauliflower from the core, as we don't really want to eat the core for this recipe.
What parts of cauliflower are edible?
So glad you asked! You could actually keep the stem, leaves, and core of the cauliflower to add to soups and stocks. It helps to flavor them!
The leaves and stems are definitely edible. Chopped up in salads, grated for a slaw, the list goes on!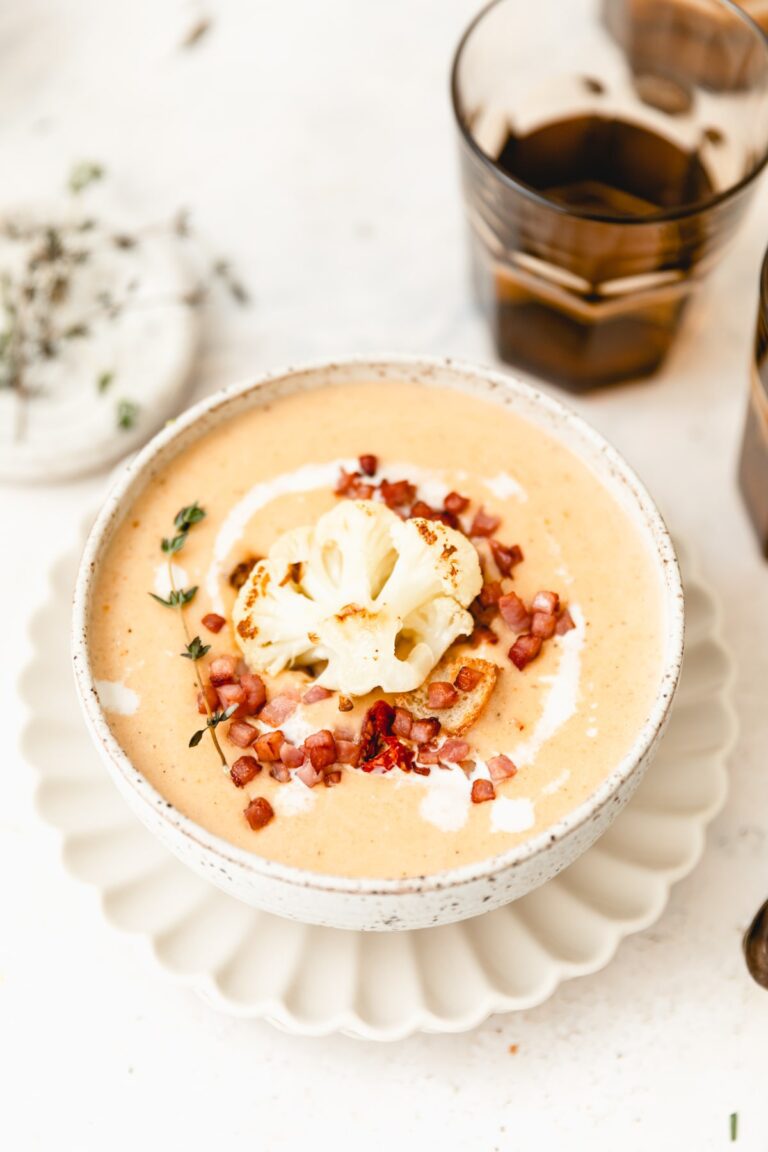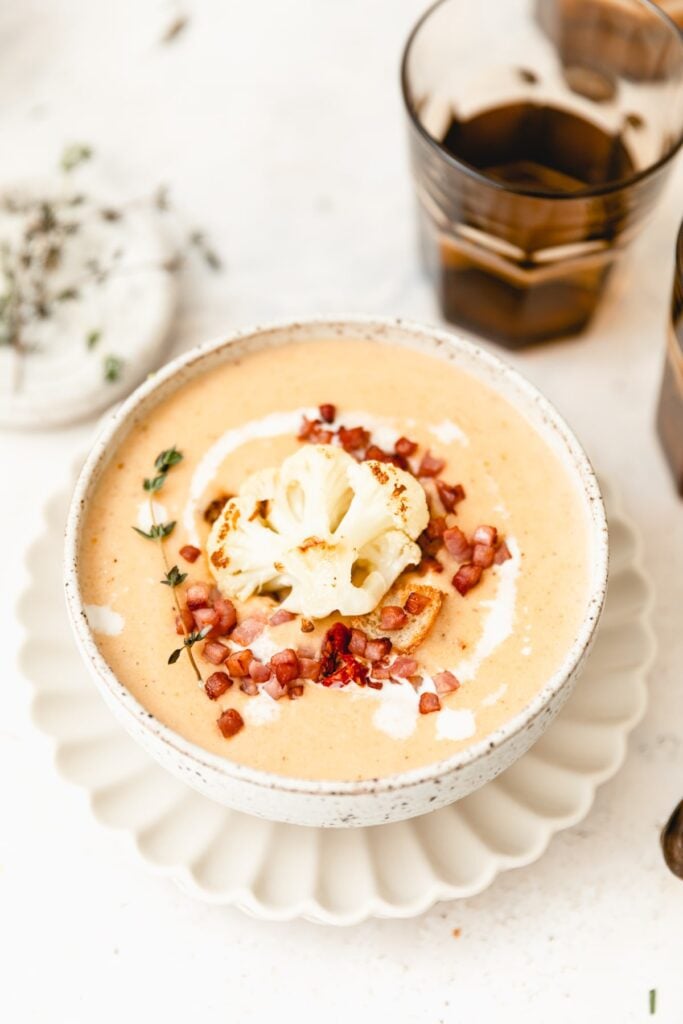 Ingredients
To make Cauliflower Cheese Soup, here is what you'll need! I opted for white cheddar and parmesan cheese combination. But if you prefer sharp cheddar, or even Havarti would be delish!
cauliflower
white cheddar
onion
chicken stock
garlic
paprika
fresh thyme
salt & pepper
potatoes
milk or cream
bacon bits
sundried tomatoes
baguette
parmesan
olive oil
How To Make Cauliflower Soup
This soup is an absolute flavor bomb! Pair that with the creamy texture & crunch of the bacon and croutons on top, it's absolutely one of my favorite meals.
To make this 30-minute cauliflower soup, follow these easy steps!
Roast the cauliflower on a sheet tray
While that roasts, add bullion & water, spices, green onion, chopped potatoes, and sundried tomatoes to a large pot.
Bring to a boil and reduce to simmer for 15 minutes until potatoes are tender.
Add cauliflower, and the potato soup mix into a food processor or use an immersion blender to carefully blend it all together.
Once smooth, stir in the cheese & milk.
Heat the soup over medium for another 5 minutes or so to melt the cheese.
While that heats, toast up some diced bread tossed with olive oil along with the bacon bits. Use this for topping!
Serve the soup in bowls topped with bacon, croutons, thyme, and extra sundried tomatoes. For extra richness, add some heavy cream as a drizzle on top.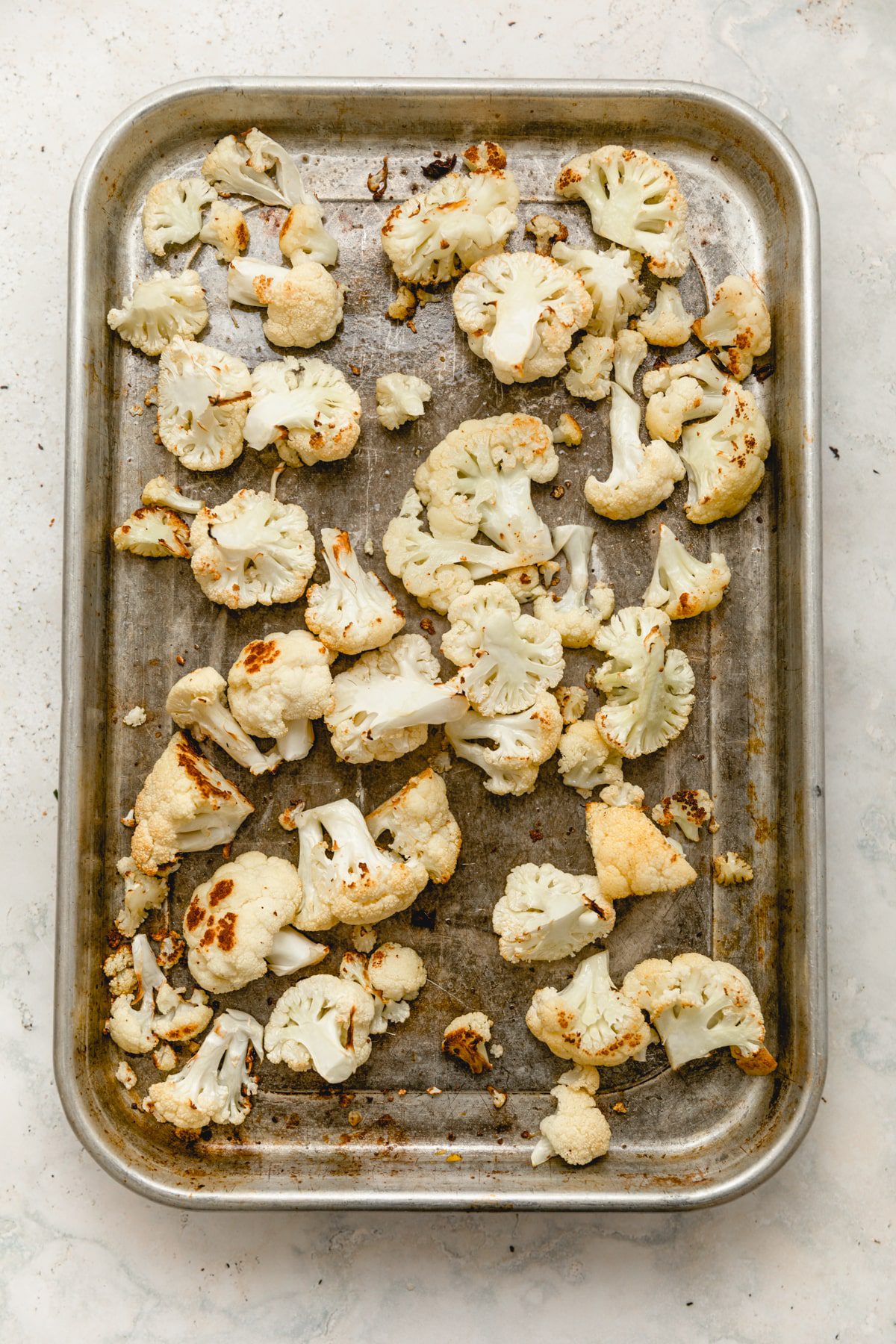 Tips and FAQ
How To Thicken Cauliflower Cheese Soup? To keep this soup thick, luscious, and delicious we are using a mix of cheese, potatoes, and cream to make it thick! If you'd like it thicker, add a couple more potatoes and an extra pinch of salt.
How To Store It? To store this pureed cauli soup, use an airtight Tupperware and keep in the fridge for 3-4 days.
Can You Freeze Cauliflower Soup? Freeze up to 6 months! Just don't add the toppings until you are ready to serve.
Ways To Serve Cauliflower Cheese Soup.
This recipe is topped with croutons and bacon. However, you could serve it with many different things to elevate this dish.
soft pretzels
in a bread bowl
or topped with chives and cheese!
There is no wrong way to serve it!
More Cauliflower Soup Recipes
If you enjoyed this cauliflower soup, you might also like these other soup options!
Broccoli Cheddar Cauliflower Soup - a unique twist on Broccoli Cheddar Soup.
Homemade Cream of Cauliflower Soup - rich and delicious cream of cauliflower!
Broccoli & Cauliflower Soup - a broth-based soup loaded with veggies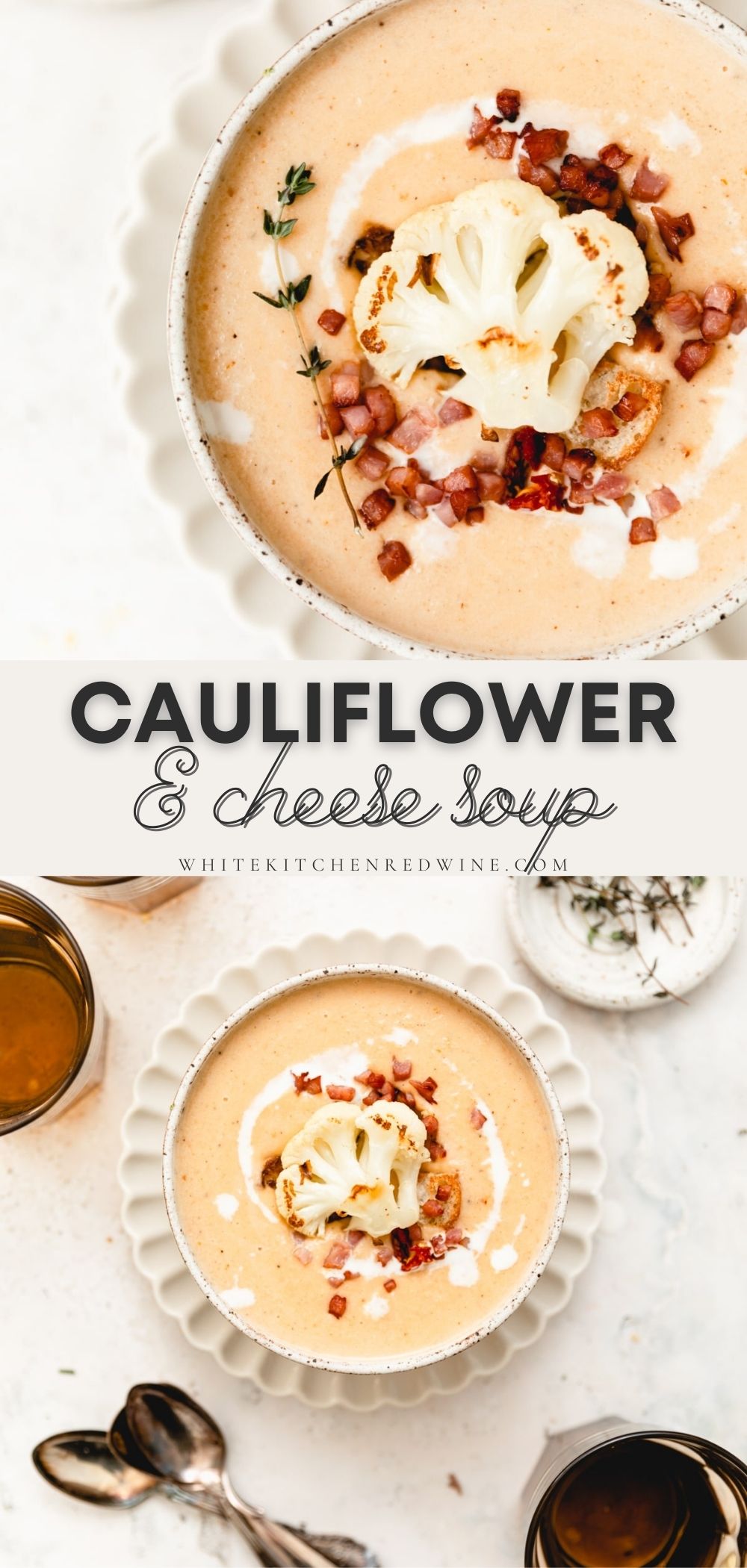 📖 Recipe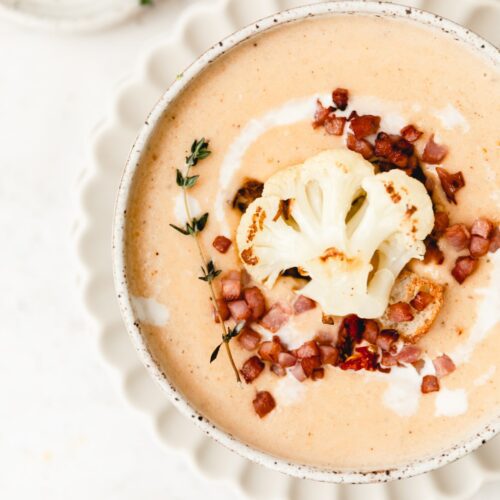 Cauliflower Cheese Soup
Cheesy cauliflower soup that is creamy, lucious, and SO easy to make!
Print
Pin
Rate
Ingredients
1

head of cauliflower

or a 10 oz bag of cauliflower florets

1

tablespoon

olive oil

4

oz

block white cheddar

shredded

½

yellow onion

diced

4

cups

chicken stock

3

cloves

garlic

1

teaspoon

paprika

3-4

sprigs fresh thyme

1

tablespoon

salt

½

tablespoon

pepper

1

russet potato

peeled and chopped

½

cup

whole milk or cream

For topping:

bacon bits

sundried tomatoes

1

cup

croutons

baguette, diced into ½ inch cubes

¼

cup

parmesan cheese

olive oil
Instructions
Preheat oven to 425 degrees F.

Remove the florets from the cauliflower and place on a sheet tray.

Drizzle cauliflower with olive oil and sprinkle with ½ teaspoon salt, toss gently and place in the oven.

Roast for 15 minutes while you prepare the soup.

In a dutch oven or other large pot, heat a drizzle of olive oil over medium high heat.

Add in diced onion and garlic. Saute for 2-3 minutes.

Add chicken stock, potato, thyme leaves, ½ tablespoon salt, ½ tablespoon pepper, and paprika. Bring to a boil.

Let this simmer until the cauliflower is done or until the potatoes are tender. (about 15 minutes)

When the cauliflower is done, place the soup mixture and cauliflower into a food processor or high speed blender. (You might need to do this in batches)

Begin blending the soup and add in the cream or milk.

Blend for 2-3 minutes until silky smooth.

Return to the pot on the stove and heat the soup over medium heat. Stir in the shredded cheddar. Reserve some for topping. Taste now and add more salt if necessary.

While that warms through, prepare the topping by adding diced baguette, olive oil, and parmesan cheese to a sheet tray.

Broil for 2-3 minutes until golden brown.

Once the cheese has melted and the soup is warmed through, serve in bowls and top with bacon bits, parmesan croutons, and a drizzle of cream!