Creamy, crunchy, and craveably comforting, my Healthy Tuna Pasta Salad is an all-American classic. Loaded up with crunchy celery, tangy dill pickles, and an outrageously delicious cheddar onion dressing, this meal-prep-friendly dish is destined to become a family favorite. Made with just 10 ingredients in about 10 minutes, this tuna noodle salad is a busy mom's godsend.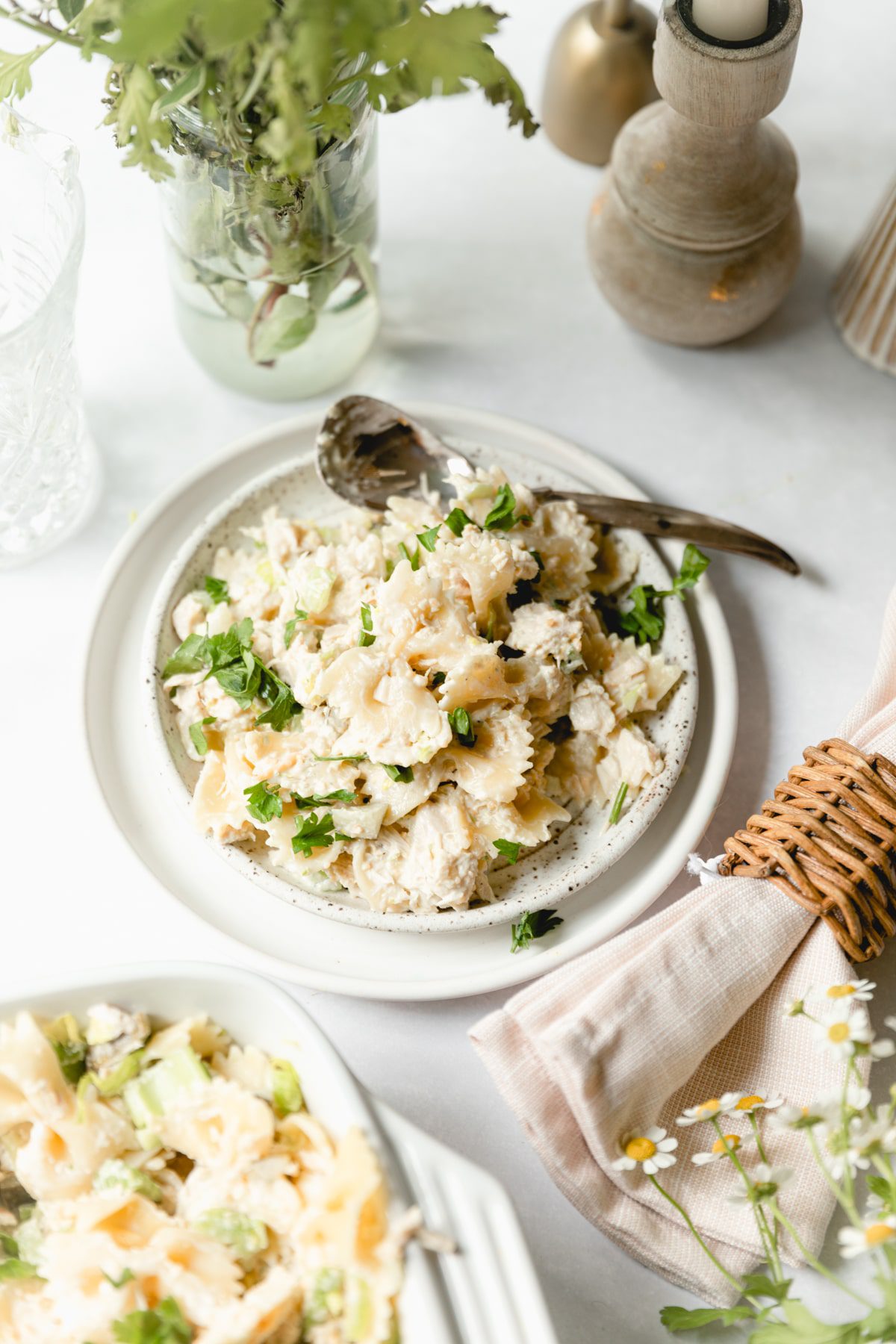 Why This Meal Is The Best
When the weather is scorching hot, I can't even bear the thought of turning on the oven. Even a plate of hot food will send me into a sweat! This time of year, I lean heavily into dishes that are either no-cook or cooked exclusively on the stovetop, and this healthy, creamy, crunchy, filling pasta salad with tuna recipe is one I turn to again and again.
Aside from being super tasty, this tuna salad pasta is:
Quick & Easy. Whizz up the tangy cheddar onion dressing and chop your celery and pickles while the pasta boils. The whole thing takes just 10 minutes!
Made With Only 10 Ingredients. Most of them are staples in our house, so we almost always have everything on hand.
Wholesome & Nutritious. Tuna is loaded with omega 3 fatty acids which can aid in balancing cholesterol. It also is packed with protein to help keep you fuller longer. Using Greek yogurt in the dressing also adds a nice probiotic boost while keeping things light.
Meal-Prep & Budget-Friendly. Prep a batch of this macaroni salad with tuna on Sunday and have lunch squared away for the whole week! And since it's made with a box of pasta and canned tuna, it's one of the cheapest meals in my repertoire.
Healthy Tuna Pasta Salad Ingredients
Despite being packed to the brim with big flavors, this pasta salad with tuna has a relatively short ingredient list. Here's what you'll need:
Tuna - If possible, get a little splurgy and opt for tuna packed in olive oil for the best flavor. Otherwise, any sustainably caught solid albacore tuna in water will do the trick!
Greek Yogurt - I almost always have a large container of full-fat plain Greek yogurt on hand to use for everything from homemade fruit-on-the-bottom yogurt cups for kid lunches to a sour cream alternative for chili or for dolloping on many Lebanese dishes. Feel free to swap in low or non-fat options if you prefer.
Mayo - Any high-quality mayo like Hellmans/Best Foods or Dukes will do here. You can also use homemade aioli if you like!
Celery - Often overlooked for fancier veggies, celery offers lovely crunch and a bit of earthiness. To keep your celery crisp for as long as possible, wrap a slightly more than damp towel around the base then wrap it in foil or plastic before stowing it in your crisper drawer.
Dill Pickles - I prefer refrigerator pickles like Claussen or Grillo's because they are crunchier than shelf stable brands. Feel free to use any that you like, but make sure to chop your own instead of using dill relish so that you get more interesting texture throughout.
Bow Tie Pasta - I love the cheerful, kid-friendly shape of farfalle. Feel free to swap in any short pasta shape you like! You can also boost the nutrient content by opting for whole-wheat pasta.
Green Onion - Also known as scallions, these lovely alliums pack a flavorful punch. You'll use both the greens and whites here, so nothing goes to waste.
Cheddar Cheese - Either mild or sharp cheddar will work here, depending on your preference. Also, feel free to buy pre-shredded cheese to keep your prep to a minimum.
Pepper - Freshly cracked black pepper is so much more pungent than the powdered stuff that comes in a tin. Do yourself a favor and invest in a pepper grinder to taste the difference!
Seasoning Salt - One bottle, loaded with lots of flavors. It's an excellent shortcut!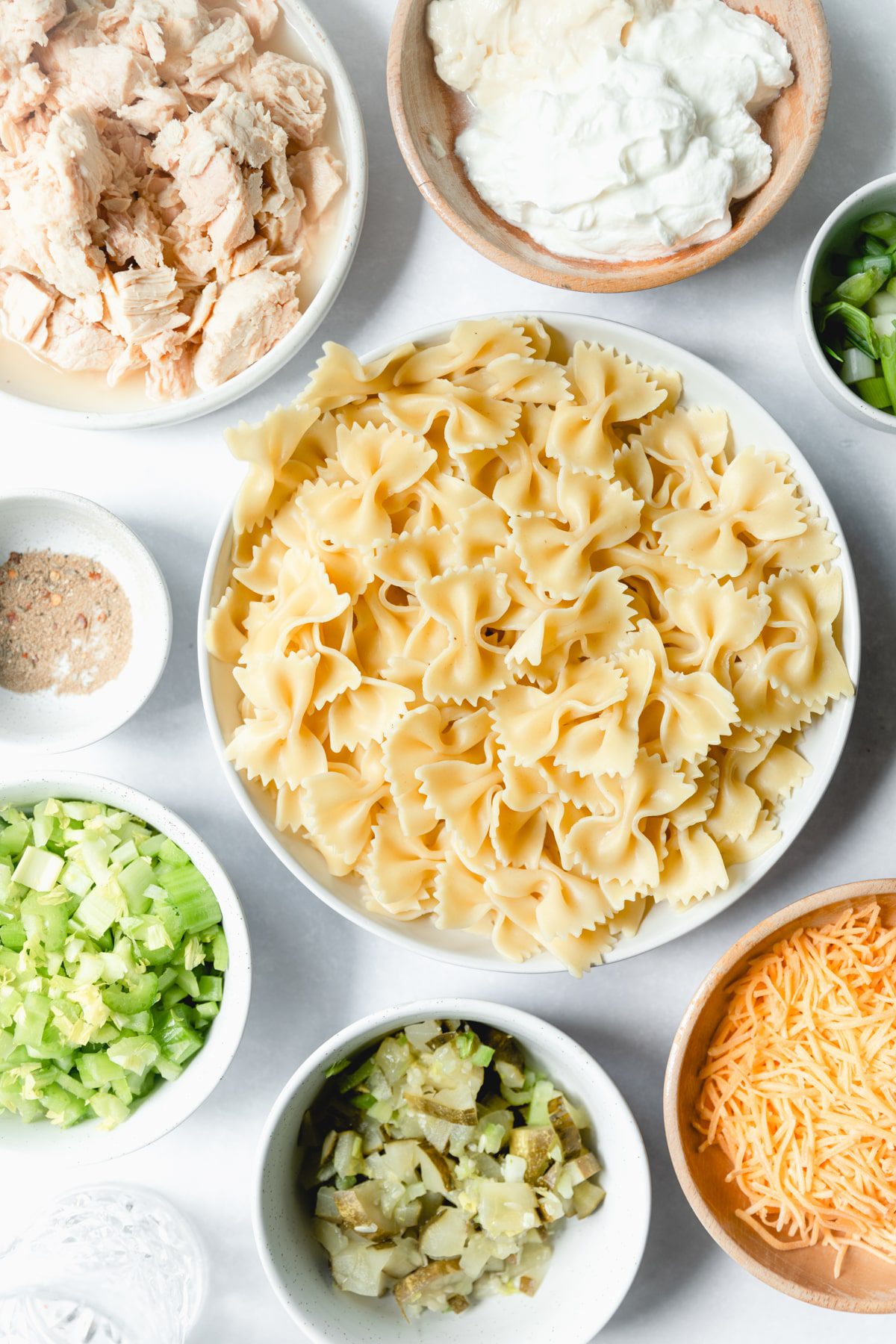 Tools Needed
You'll need just a few pieces of kitchen equipment to get make the best tuna pasta salad you've ever tasted. Here's what to grab:
Food Processor - Blending the cheddar and green onions into the mayo and yogurt makes for one of the best salad dressings around. Feel free to use a high-powered blender (like a Vitamix) if you prefer.
Large Pot - Pasta needs space to move around, so make sure your pot is at least 4 quarts or larger.
Colander - While you can technically strain pasta using a pot lid, it's easier and safer to use a colander. If possible, avoid using mesh colanders for pasta because they're difficult to clean.
How To Make Tuna Salad With Pasta
As promised, this super simple tuna salad recipe with pasta comes together in about the time it takes to boil your noodles. Here's how it's done:
Step 1: Cook Pasta according to the box, drain and set aside to cool.
Step 2: Make Dressing. In a food processor combine yogurt, mayo, cheddar cheese, green onion, seasoning salt, and pepper. Blend until smooth.
Step 3: Assemble. In a serving dish add noodles, tuna, chopped pickles, and chopped celery, then toss. Drizzle with the cheddar onion dressing and toss again to coat.
Step 4: Chill & Serve. Refrigerate for 30 minutes and serve!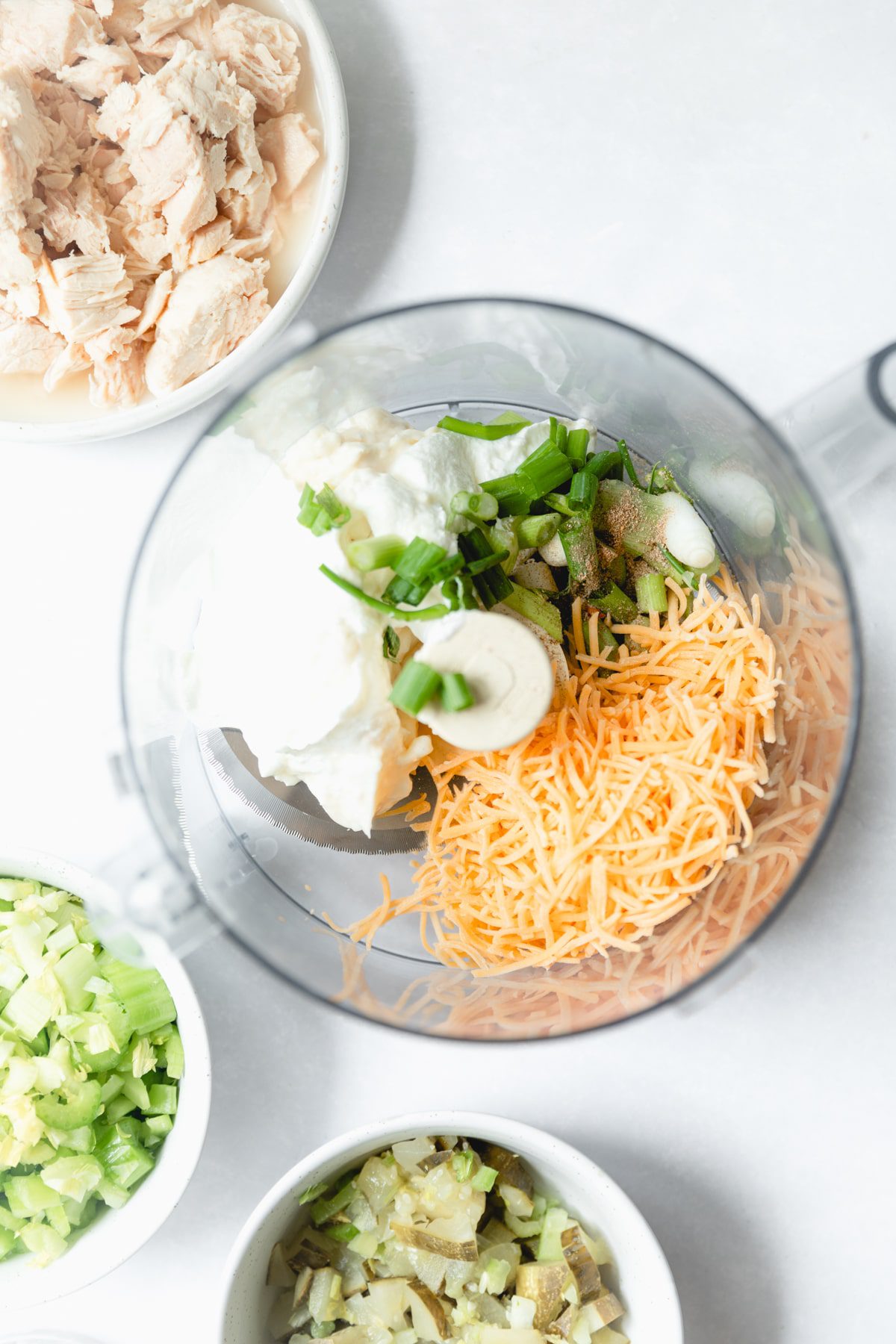 Swaps & Substitutions
Make It Hot. It'd be equally delicious topped with more cheese and baked as a casserole. Just wait till fall though, okay?
Try Another Fish. Swap in canned salmon or trout, or use bay shrimp. You can also use any leftover fish from previous dinners; just flake into pieces before adding.
Use A Different Pasta Shape. Macaroni, penne, rigatoni, cavatappi, ziti, or orecchietti are all lovely.
Gluten-Free. Swap in your favorite gluten-free pasta brand to keep it celiac-friendly.
Dairy-Free. Use plant-based cheddar and yogurt to keep your lactose-intolerant friends happy.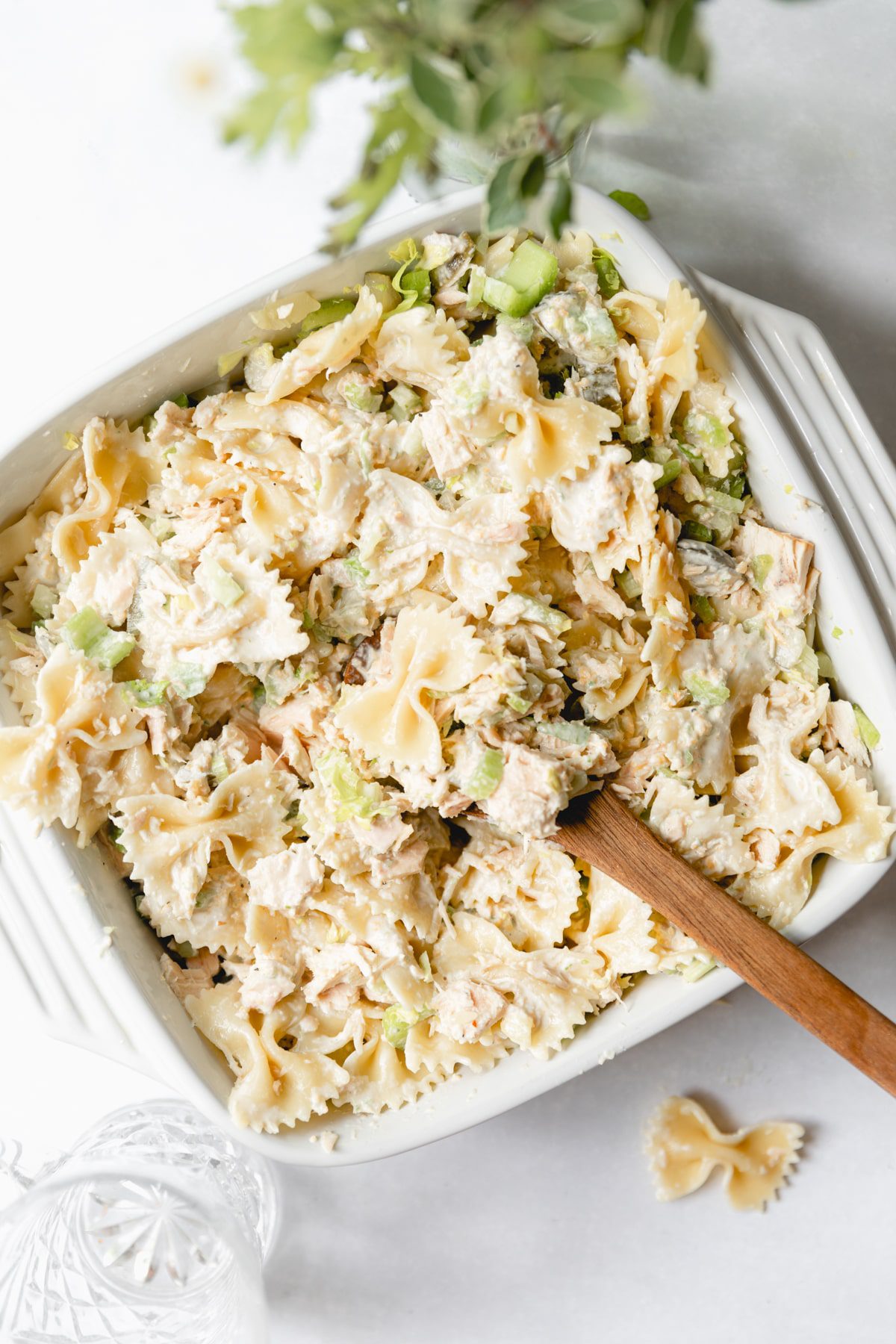 FAQs & Tips
Storage. Once made, store in a clean airtight container in the fridge for up to a week. Feel free to portion it out into individual containers to make grab-and-go lunches for the week!
Quality Matters. At the very least, I suggest reaching for solid albacore tuna over the "chunk light" versions so you can get nice big pieces of fish. If it's within budget, tinned or jarred fish packed in olive oil is even better. No matter what you choose, just be sure to shop sustainably so there's enough tuna left for our future grandkids!
Salt Your Pasta Water. You only get one shot to season your pasta, so don't miss it. I suggest adding enough salt that you can actually taste it in the water. It should taste lightly briny, like the sea.
Is pasta tuna salad kid-friendly? Absolutely! What kid doesn't love friendly bow-tie pasta? And they won't even notice the tuna in between the dill pickles and the cheddar dressing! This dish was a hit for both my husband and kids. I also love that I can prep it just once and make packed lunches to last for the whole week.
What makes this cold tuna pasta salad healthy? Tuna is a great source of protein and heart-healthy omega-3 fatty acids. Greek yogurt is a great source of probiotics, calcium, and protein and helps to make a better-for-you creamy salad dressing. Cheddar also has calcium and protein. If you opt for whole-grain pasta, you're also getting lots of fiber in the mix!
Do you eat tuna pasta salad hot or cold? Right now? Cold, for sure! That said, you can feel free to top it with extra cheddar cheese and bake it like a casserole when the temps drop in the fall or winter.
Serving Suggestions
I'll often eat a big bowl of this healthy tuna pasta salad for lunch or dinner all by itself. It also makes for a nice side dish at picnics and grill-outs. It pairs beautifully with a crisp white wine or rose if you're feeling fancy!
More Tasty Make-Ahead Recipes
If you tried this recipe for my Healthy Tuna Pasta Salad, let me know how it turned out by giving it a star rating or commenting below. You can also always tag me in your social media posts; I love cheering you on!
For more effortless entertaining recipes, be sure to follow me on Instagram, Pinterest, Facebook, and YouTube. You can also get all of my newest content delivered straight to your inbox by signing up for my email newsletter.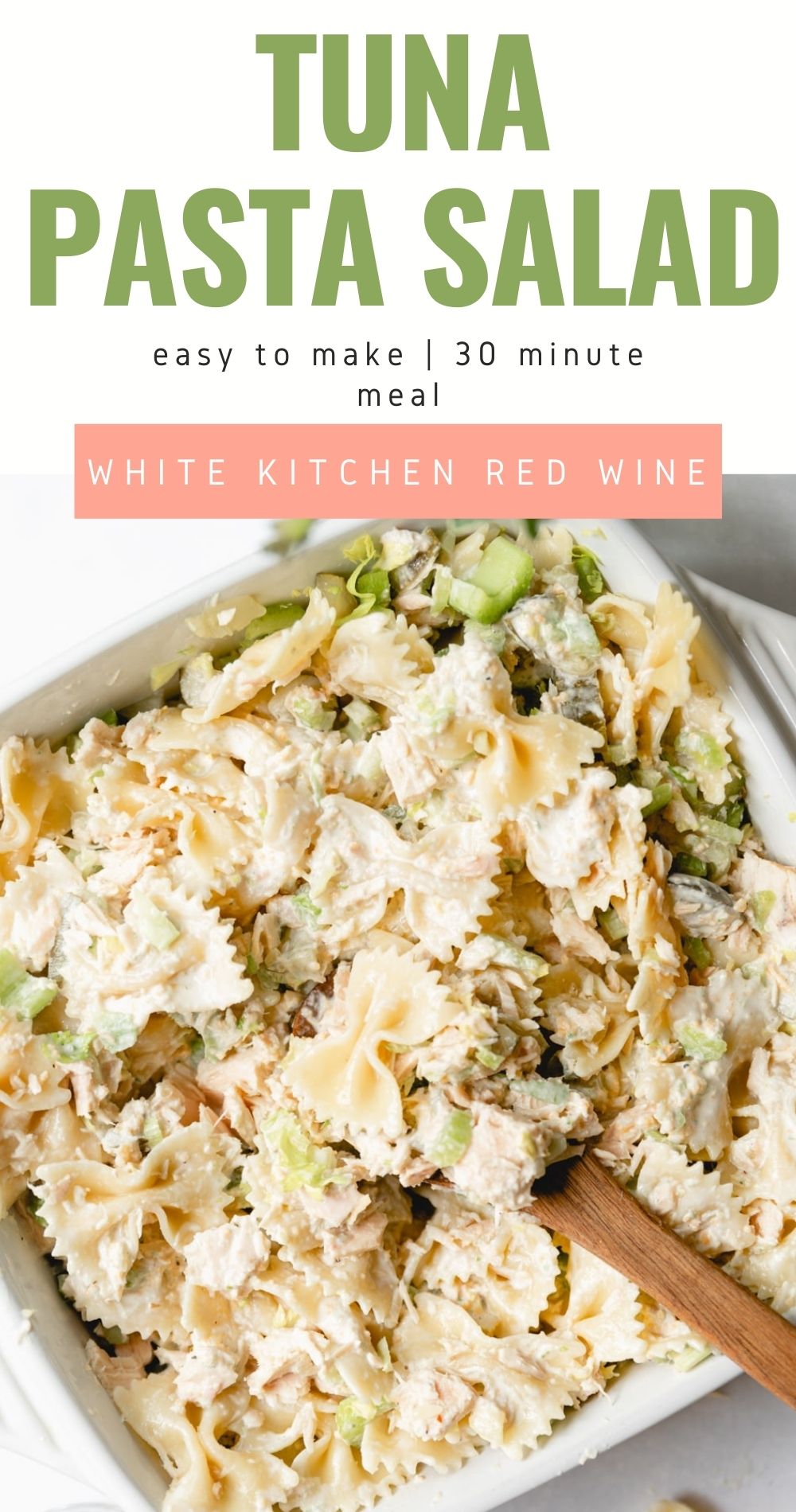 📖 Recipe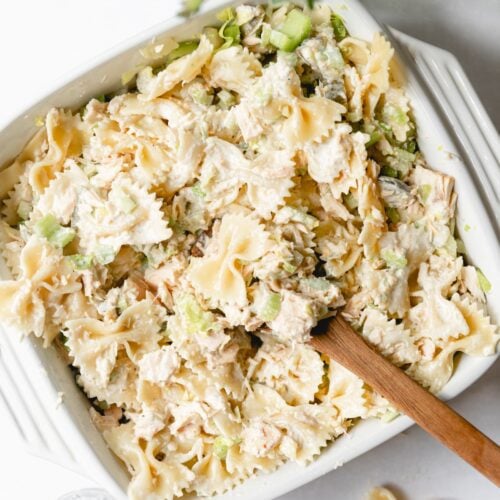 Healthy Tuna Pasta Salad
A delicious tuna salad that is packed with protein, vegetables, and topped with an easy-to-make cheddar onion dressing
Print
Pin
Rate
Ingredients
10

oz

bow tie pasta

3 5

oz

cans of tuna in water

1

cup

greek yogurt

½

cup

mayo

1

tablespoon

seasoning salt

½

teaspoon

pepper

3-4

dill pickle spears

finely chopped

3

stalks of celery

finely diced

1

cup

shredded cheddar cheese

3

green onions roughly chopped
Instructions
Cook the pasta according to the box, drain and set aside to cool.

In a food processor combine yougurt, mayo, cheddar cheese, green onion, seasoning salt, and pepper.

Blend until smooth.

In a serving dish add noodles, tuna, chopped pickles, chopped celery and toss.

Drizzle with the cheddar onion dressing and toss.

Refrigerate for 30 minutes and serve!