Whether it's a weekend pizza night or just a quick weeknight dinner menu item, this Dill Pickle Pizza is something unique, different, and ABSOLUTELY DELICIOUS.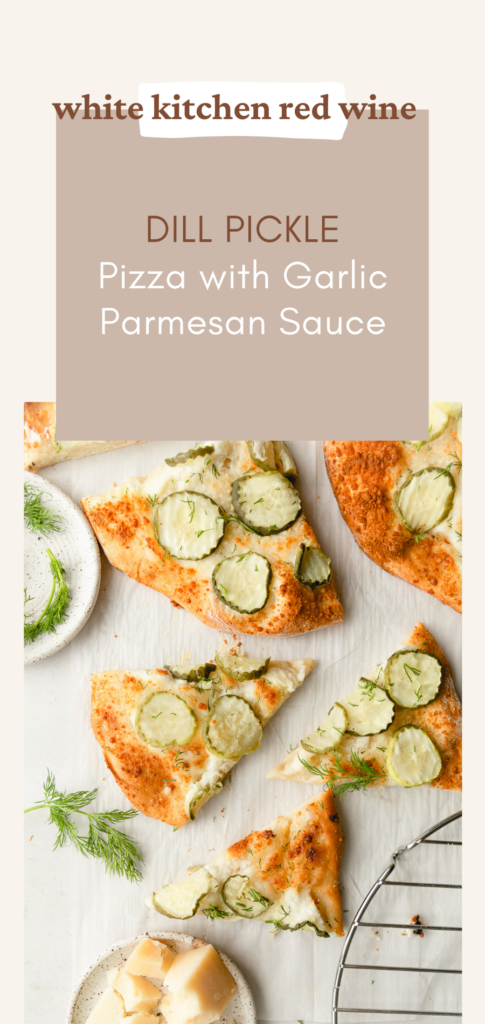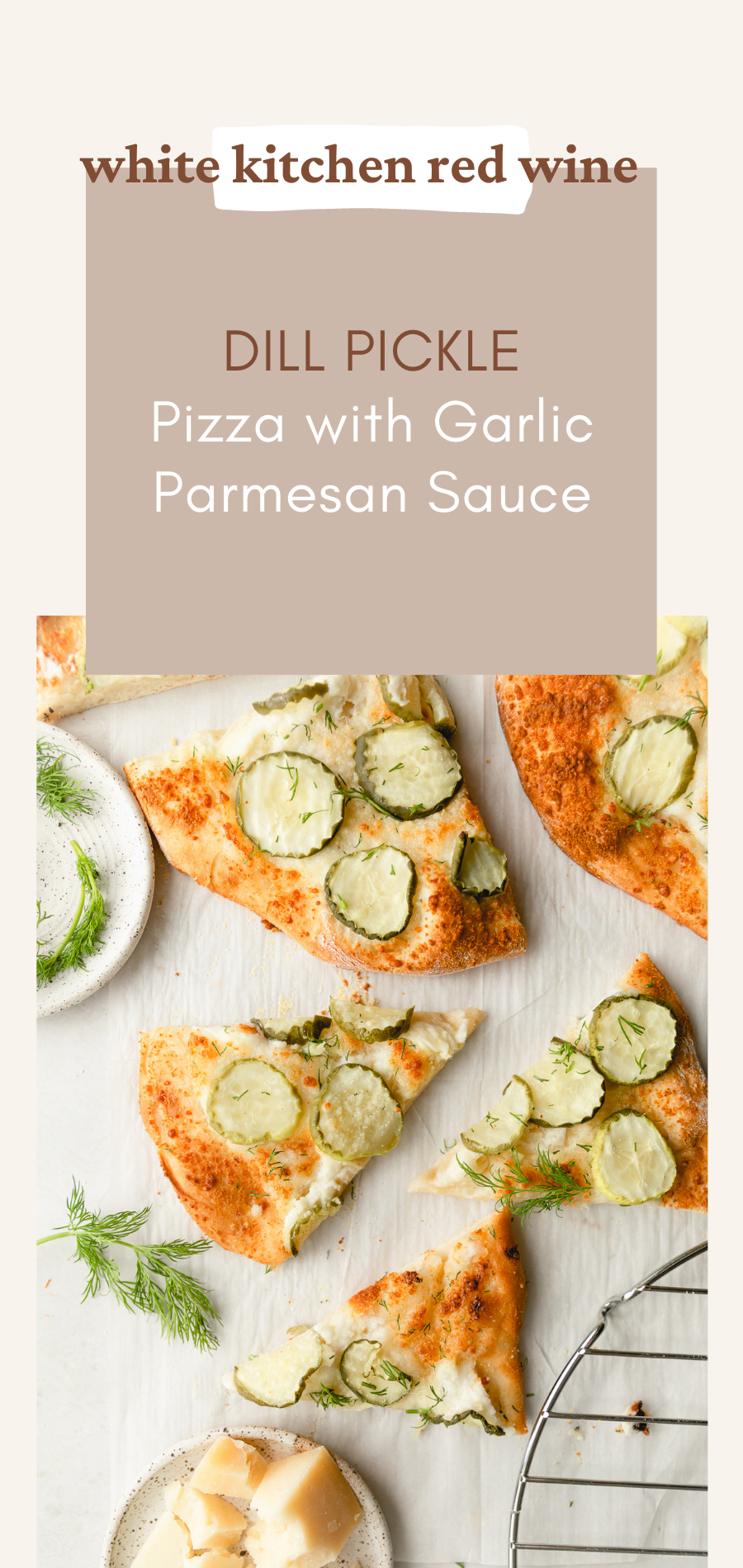 Is Pickle Pizza Good?
YES! I mean...you have to like pickles of course. But I think I'm confident when I say that this pickle pizza is every pregnant lady's dream!
Its tart, cheesy, garlicky, and it's on a crispy crust - what is not to like? Top with fresh dill to add that bit of freshness that it needs and you've got yourself a solid pizza night.
Dill Pickle Pizza Recipe
So the toppings to this recipe are really quite simple...
The best quality pickles you can find
Garlic sauce
Fresh grated parmesan
Pizza Dough
You can get fancy and make your own dough at home (here's a great pizza dough recipe!) OR Trader Joe's sells pre-made pizza doughs, as well as your local pizza place, may be willing to sell you their dough!
Honestly, you could even use a cauliflower pizza crust for this if you really wanted to make a healthy pickle pizza!
What Pickles Are Best For Pizza?
So this is going to be mainly up to what kind of pickles YOU like. I like super tart, dill pickles. But if you like a sweet and spicy pickle, go for it!
You could change it up each time. Klaussen pickles are my favorite. Get the pre sliced pickles to make your life easier!
But It's hard to put into words the perfect freshness and acidity it brings to a good warm slice of pizza.
What Kind Of Sauce Is On A Pickle Pizza?
Only the most superior pizza sauce in the world GARLIC PARMESAN. If you are not eating pizza with a garlic parmesan sauce you are doing your pizza experience all wrong.
Nothing against good old red marinara, but if you like garlic breadsticks, this essentially turns your whole slice into an incredibly delicious garlic bread.
My favorite garlic sauce to use is a Lebanese Garlic Sauce called Toum. Its oil and garlic whipped together and I eat it on virtually everything.
Trader Joe's carries it's own version of Toum and that's what I used for this pizza. It's in the refrigerated section with their dips. Check out these other great recipes to use with the garlic sauce!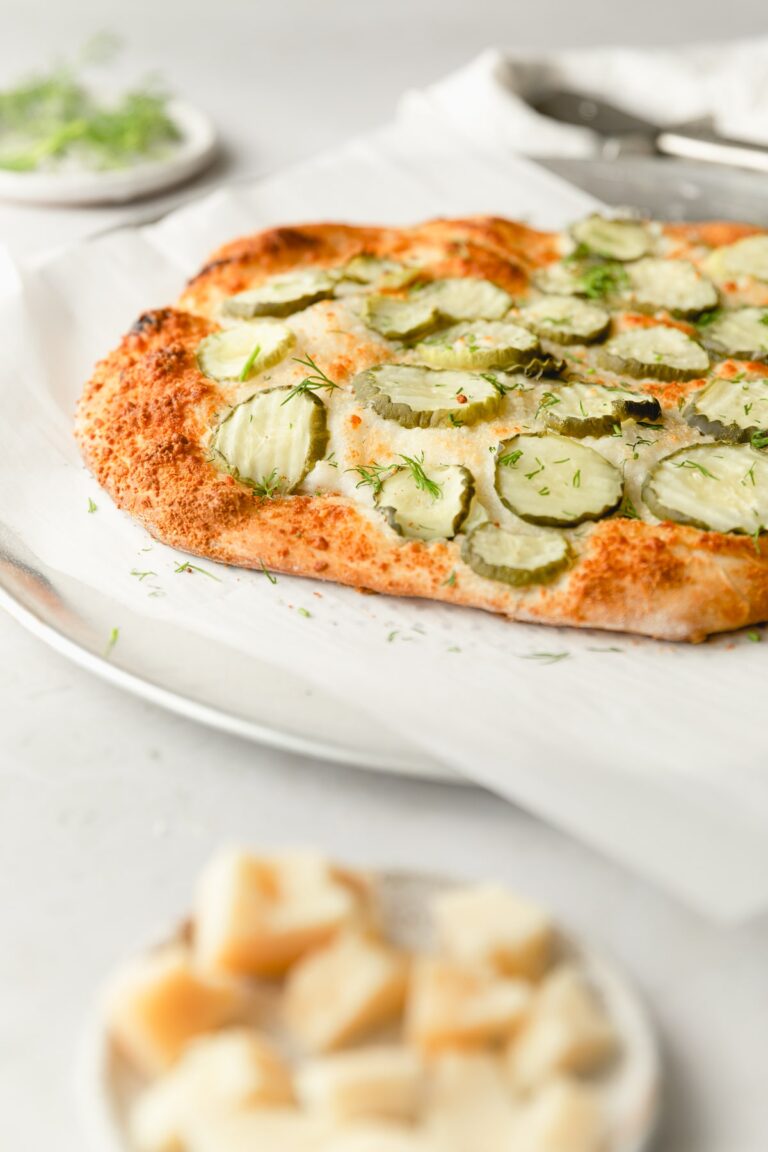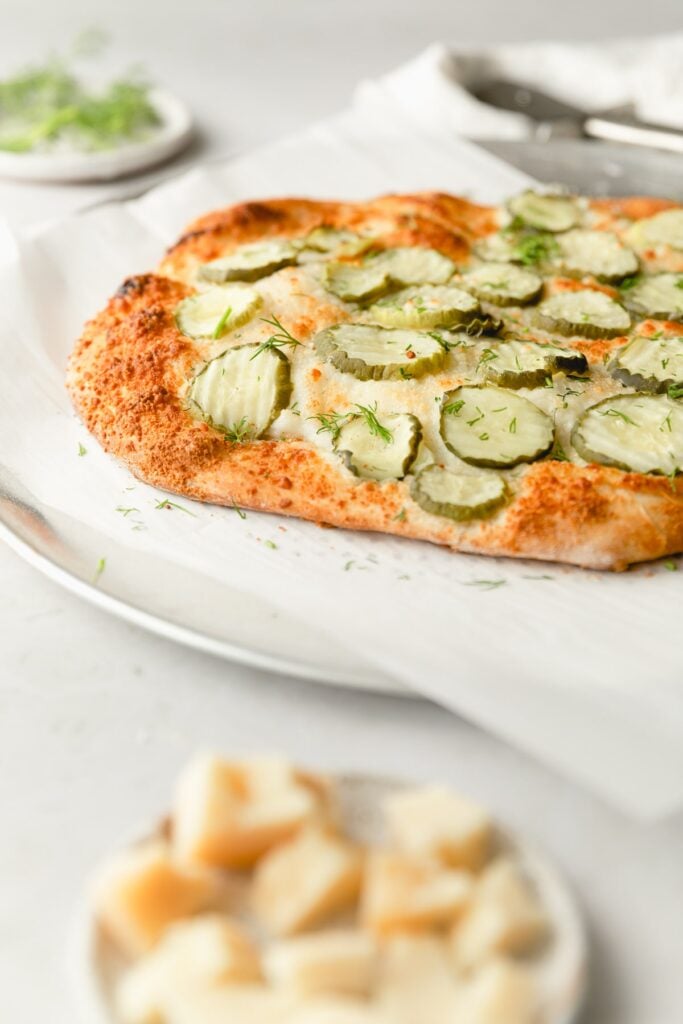 Garlic Parmesan Crust
Ok, here is what makes my recipe different and in my opinion, the best pickle pizza EVER.
We are taking that garlic sauce and spreading it crust to crust. Just really cover the whole pizza.
Then, take ½ your parmesan and sprinkle it where the "crust" should be. Around the outer inch of the pizza.
This is going to be brown, bubbly, crusty, cheesy goodness after it's all baked!
How To Cook The Best Pizza Crust
Another pro tip and why I believe this recipe is different: How we cook the crust.
First you need to get your oven pre heating to 500 degrees Fahrenheit WITH your pizza stone or pan in it. When the pizza hits that pan its going to immediately start cooking.
To fling your pizza on the stone or pan, take a piece of parchment paper and put it on the back of a sheet pan or cookie sheet. Sprinkle corn meal on the parchment paper.
Assemble your pizza as you normally would while it is on the parchment. The corn meal underneath should give it enough texture to slide right off the parchment onto the pizza stone.
Give it a couple of practice shakes then FLING that baby into the oven directly onto the pizza stone.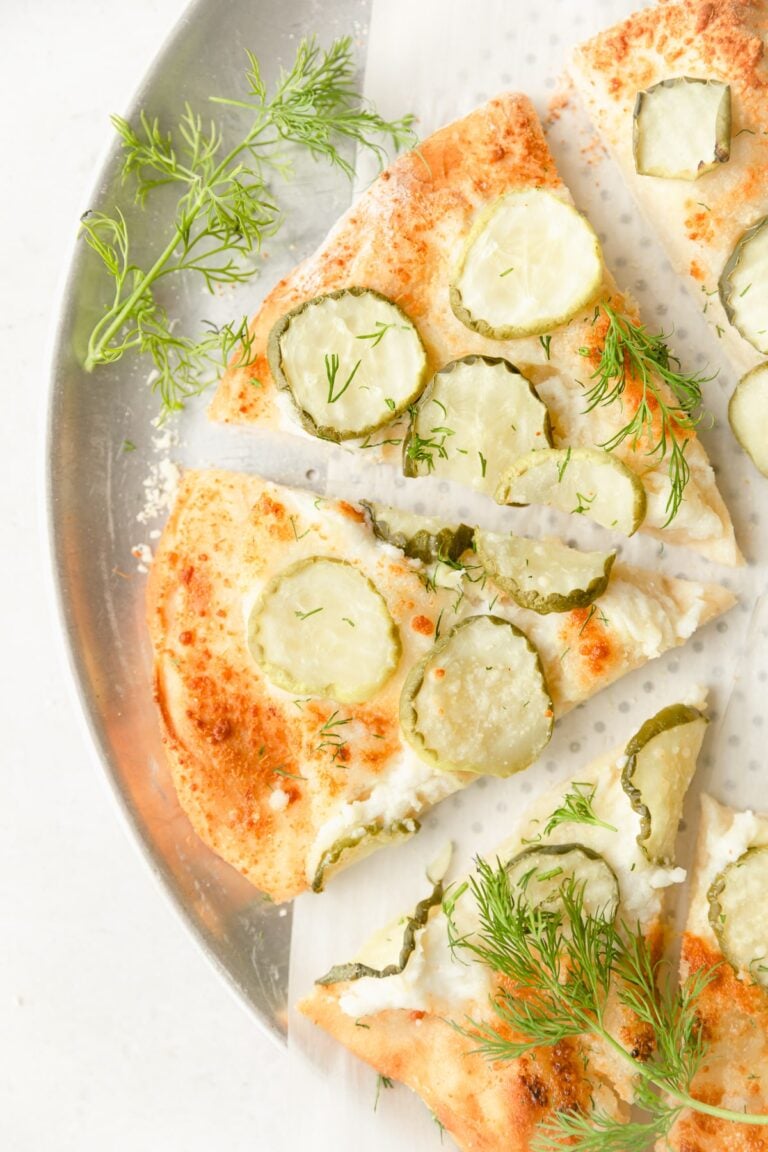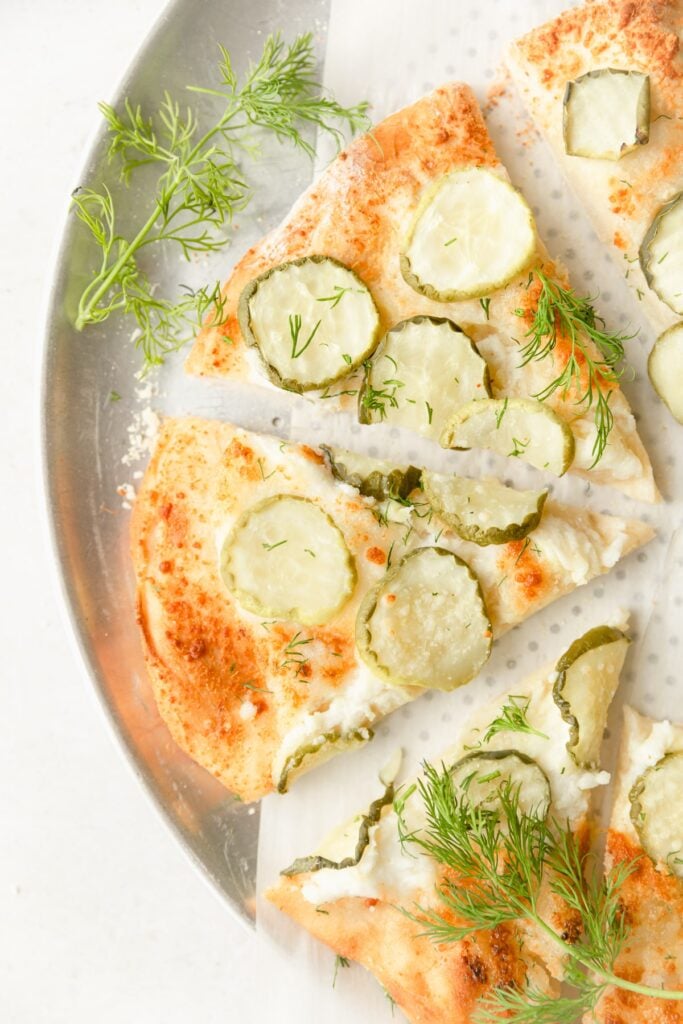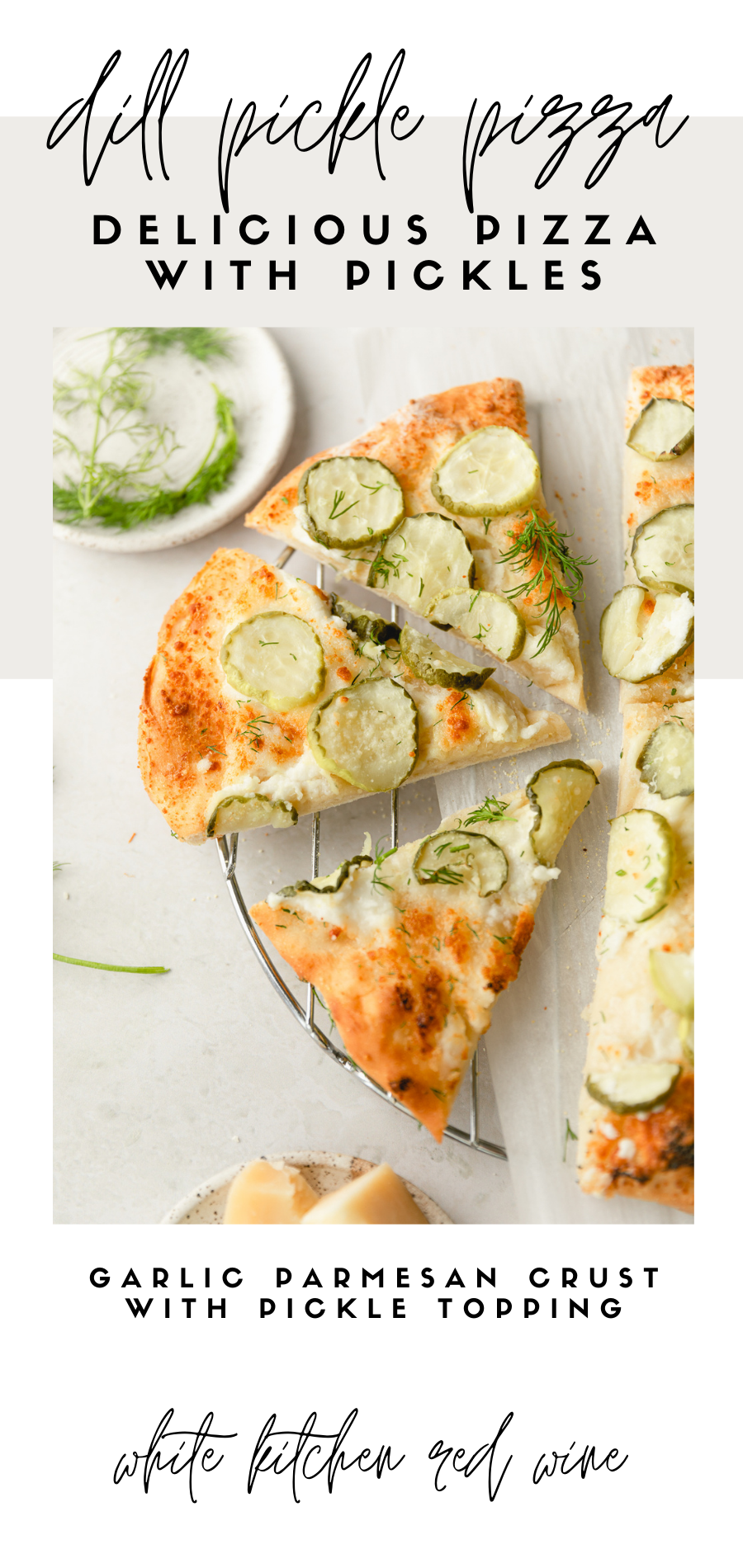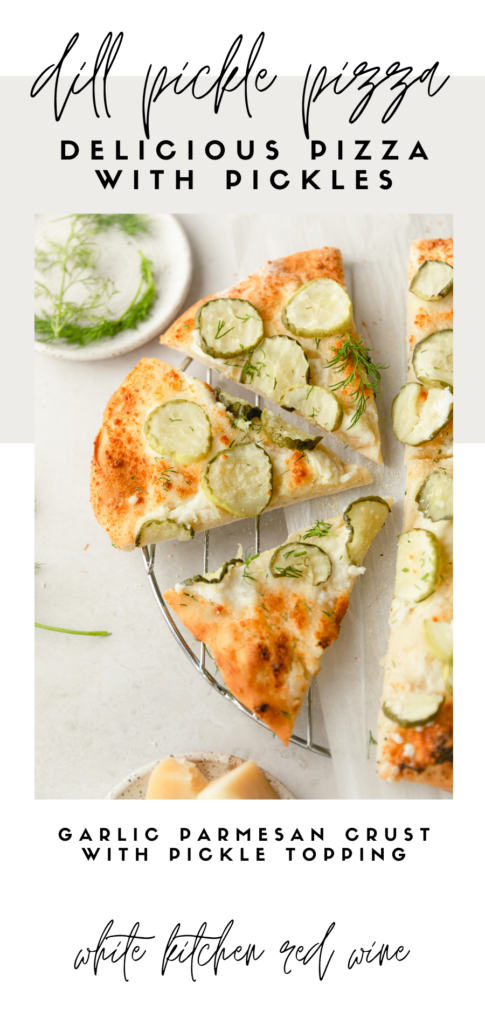 📖 Recipe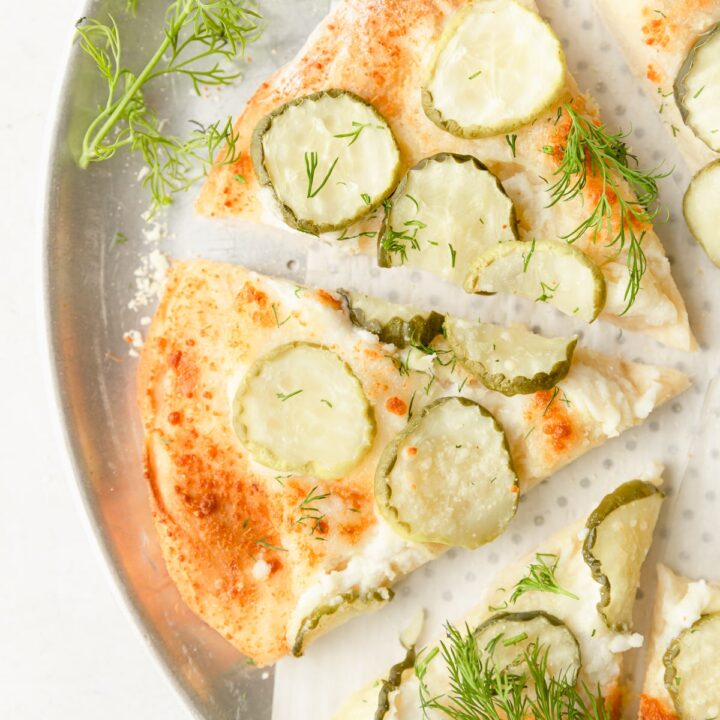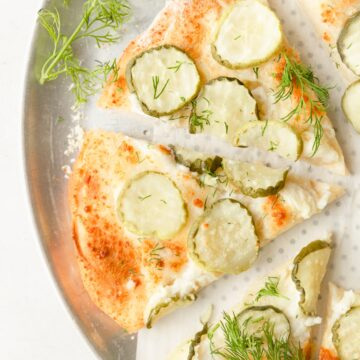 Dill Pickle Pizza
Delicious garlic parmesan pizza with dill pickle topping.
Print
Pin
Rate
Ingredients
½

cup

garlic sauce

toum or garlic dip and spread from Trader Joe's

½

cup

grated parmesan cheese

1

cup

sliced pickles

2

tablespoons

corn meal

fresh dill for topping
Instructions
Preheat the oven to 500 degrees Fahrenheit with your pizza stone or pizza pan inside.

Roll out the pizza dough to a 12 inch circle

On the back of a cookie sheet place a piece of parchment paper and sprinkle the cornmeal all over it.

Place the pizza crust circle on the parchment.

Top with garlic sauce and spread evenly.

Starting with the crust edge, sprinkle ½ of the parmesan cheese liberally around where the crust will be.

Use the remaining cheese for the center of the pizza.

Top evenly with pickle slices

Give the pizza crust a few light shakes, it should start to come off of the parchment paper.

Once it's moveable, open the oven and shake the pizza off of the parchment and the cookie sheet onto the hot pizza stone.

Bake for 8-10 minutes until the crust is golden brown.

Slice and enjoy!