Welcome to my first Chicken Chat! ? I'm going to give you the low-down on WHY in the world I want to raise backyard chickens and everything I've learned along the way to becoming a first time chicken owner!
WHY: I decided late last year that this spring I wanted to have a flock! It sounds so fun, the baby chicks are ADORABLE, but also what an amazing teaching moment for our little girl. To see how food is raised, what chickens can produce for us, and helping with the chores (age appropriate chores of course). I do admit it started off selfishly as something to make me happy and fill my time. But, in the midst of this pandemic maybe it's not a half bad thing to be a little self sufficient in the grocery department ?
HOW: So where do you even start!? I knew we needed a coop and it couldn't be an eyesore. My sweet husband who reluctantly let me take on this adventure LOVES his yard. For me to take away part of it, for chickens no less, whatever is going there needed to be gorgeous! So we took a little playhouse we originally bought for Monroe and decided that would be the coop and we would add a 10 foot run for the girls to play in.
The Coop
This playhouse needed a bit of work. I bought it off of Facebook marketplace a year ago (for $25, score!) and with a little paint and handy work, thanks to Ryan. It was looking FAB. I could already imagine those little chickies in there! Currently the run is still under construction, but the good thing is the chickens will live in a small brooding box until they are large enough to live outside.
I used 2 colors of paint for the whole project, both Valspar. I painted the inside and the outside of the coop with the white and accented with navy.
White (Du Jour)
Navy (Deep Well)
Ryan then constructed the base for the coop. It needs to be up off of the ground to help protect against predators getting in! We will add a ramp going down into the run. Hopefully the next edition of this White Kitchen Chick Chat I can report back on the run!
The Chicks
We got 6 little ladies! 3 are Silkies which are perfect pet chicken! On the smaller side and very fluffy. They lay smaller eggs, and since eggs are one reason I wanted these babies in the first place I knew we needed a few other breeds. So I ordered an additional 3: Dominique, Easter Egger, and a Blue Orpington. These are all more standard sized birds and will be great egg layers!
Also, apparently since the Silkies will look so different from the rest of the flock, it was better to have a few of them so they don't get singled out and end up at the bottom of the pecking order (which I heard is VERY real.)
So the chicks arrived last week, & you guys I am absolutely in love. Here is where they are living...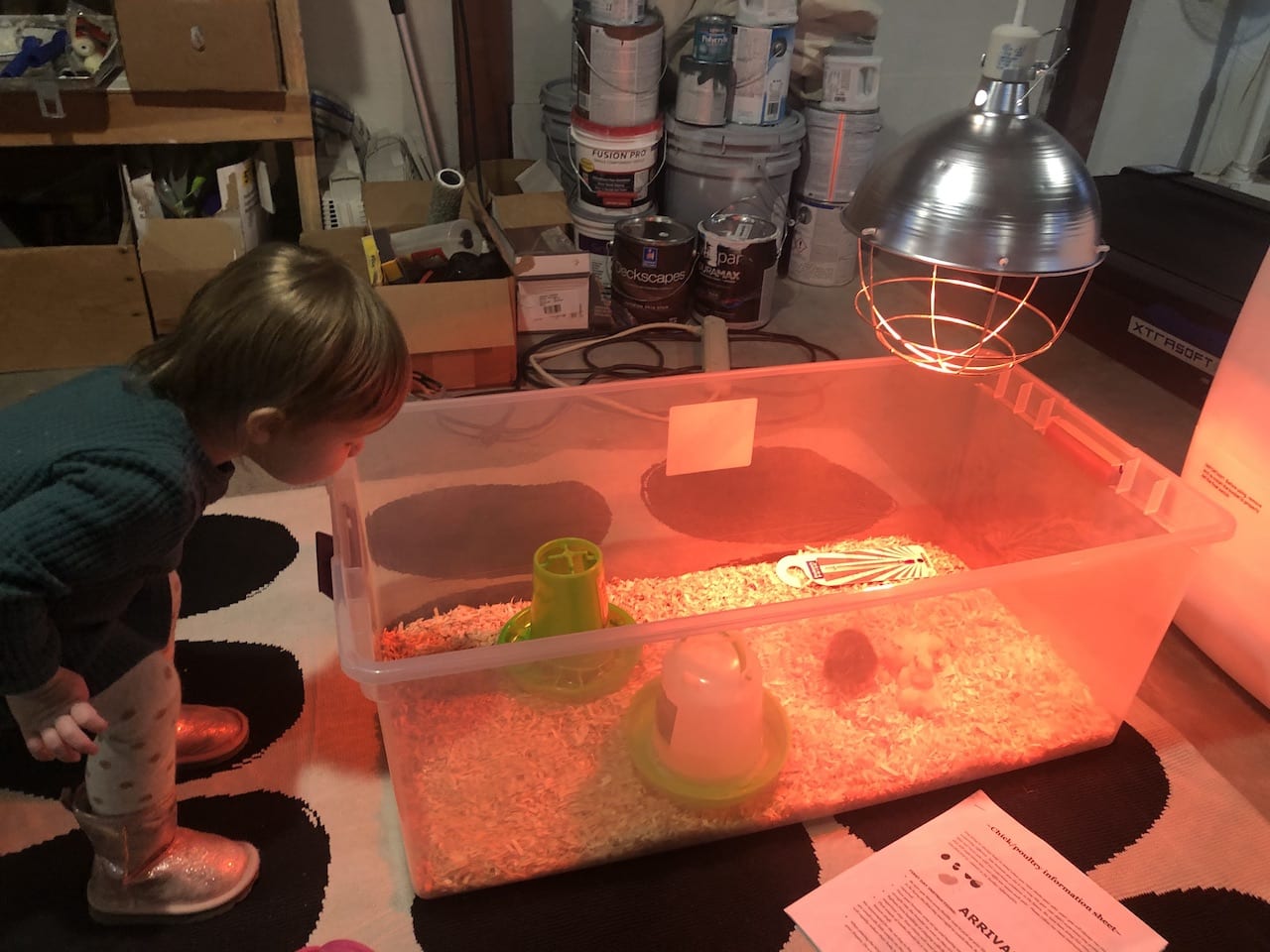 Its called a brooder and I (obviously) made it myself. It has their heat lamp, pine shavings, water, and food. They keep themselves busy by chirping and sleeping. They will live here for a few weeks until they are big enough to go outside. It needs to be kept very warm, around 95 degrees for the first week, 90 the second week & it keeps dropping until they have all their big girl feathers!
I ended up naming our little hens after my favorite female chefs! We have Ina, Giada, Katie Lee, Molly, Julia, and Ree! So far their personalities are starting to show and I can't wait until it's warm for good outside and we can let them explore!