The biggest football weekend in America is almost here! If you haven't started planning a menu, I'm here to help ya out. Best of all, they are all HEALTHY Super Bowl Game Day Recipes.
From a creamy White Chicken Chili & poppable Bruschetta Meatballs to a healthy Cheese Corn Dip this game day menu is going to leave your party guests happy no matter the outcome! (Except my father, he will only be happy with ONE outcome & that's a Chiefs victory!)
Best Way To Keep Crazy Football Fans Calm: Food
Does any one have some crazy fans in their house this year? I think the best way to keep them distracted from the bad plays are some great appetizers and yummy food.
Even better is that this collection is all made with clean and healthy ingredients. So let's get the crazies calm!
Healthy Super Bowl Dips
Fiesta Corn Dip
We will start appetizer fit for the big day: Skinny Fiesta Corn Dip. My mom famously makes this amazing, creamy, indulgent corn dip that you could easily crush the whole bowl by yourself.
My whole family loves it and I just knew I could lighten this up. So, you know I'm a fiend for Trader Joes Cashew Fiesta Dip and it has come to save the day once again.
10 Minute Buffalo Jackfruit Dip
A vegetarian option, this tangy Buffalo Jackfruit Dip has all the goodness of buffalo chicken dip without any chicken! Eat it cold or keep it in a crockpot to get it warm and melty.
Just don't forget the blue cheese!
Roasted Red Pepper Dip
Once the afternoon hits and I'm ready to reach for a snack, if I don't have something healthy already lined up I'm probably reaching for something easy and unhealthy.
Prep this easy, healthy Romesco Dip for times like that! It goes well with corn chips or veggies!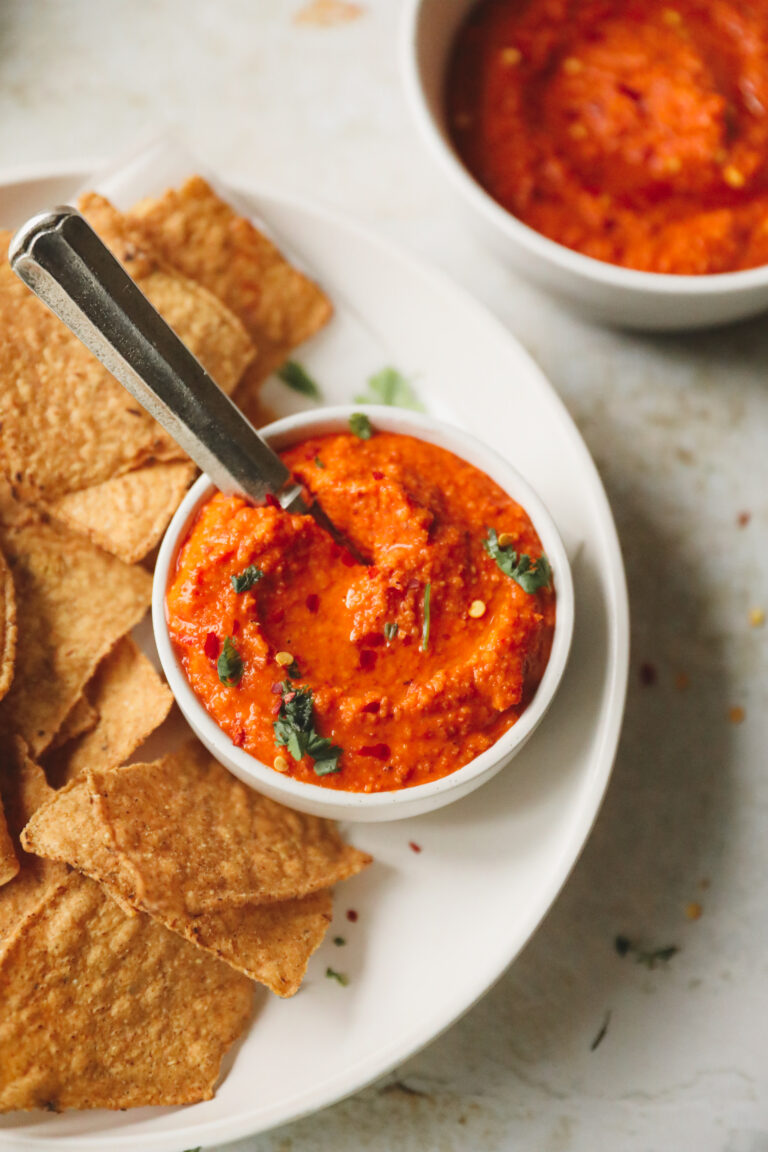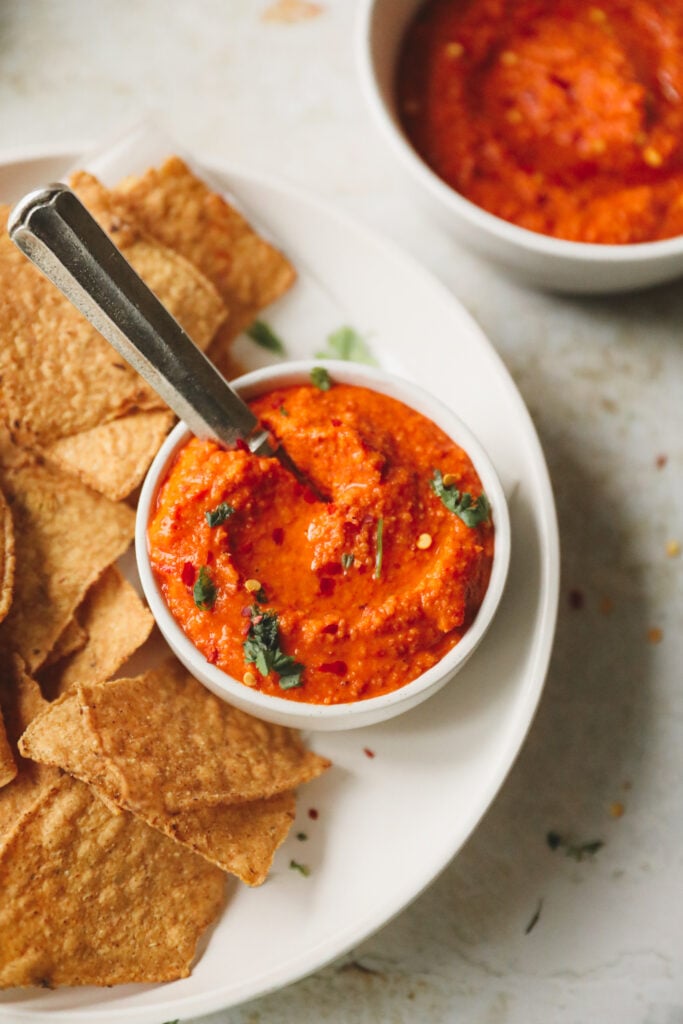 Healthy Hearty Dishes For Game Day
Brushetta Turkey Meatballs
Next game day appetizer up are my Bruschetta Turkey Meatballs. These just hit the blog last week and they were a hit. Easy to make, easy to eat. What more could you want?
I'd leave these babies right in the skillet to keep them nice and toasty, set out some tooth picks nearby and let your guests help themselves throughout the evening!
White Chicken Chili
The main dish on the game day menu! It's very important that it feeds a crowd and you don't have to babysit it. We are having a small get together this year so we can all actually focus on the game.
So, I'm making my super comforting White Chicken Chili. This soup is the perfect yellow color to rep the Chiefs. However, to really amp up the team spirit I'm going to add a can of Rotel tomatoes and green chiles to get some gorgeous pops of red in there.