Crisp air? Check! Cozy sweaters? Check! A pumpkin pie filling that is both delicious and skinny? Look no further! This delicious Pumpkin Date pie filling is a lighter alternative however it is full of flavor in every satisfying bite.
I'm not sure about you, but one of my favorite things to do after I've eaten until I can't put one more fork-full into my mouth is to load up a slice of pie with whipped cream and go to town!
Can Pumpkin Pie Be Made Healthy?
My husband absolutely loves pumpkin pie and the filling is usually filled with sugar and butter. Now, I'm committed to lightening up all our favorites for my family and comforting desserts are no exception. So I've come up with a skinny pumpkin pie filling that is just as luscious and satisfying as Grandma's!
This filling recipe is 8 servings and clocks in at a whopping 85 calories per serving (just the filling). It will fill a standard frozen pie crust. To be honest, I've found the frozen pie crusts are just as flaky and delicious as any I could make myself. However, if you make your own more power to you!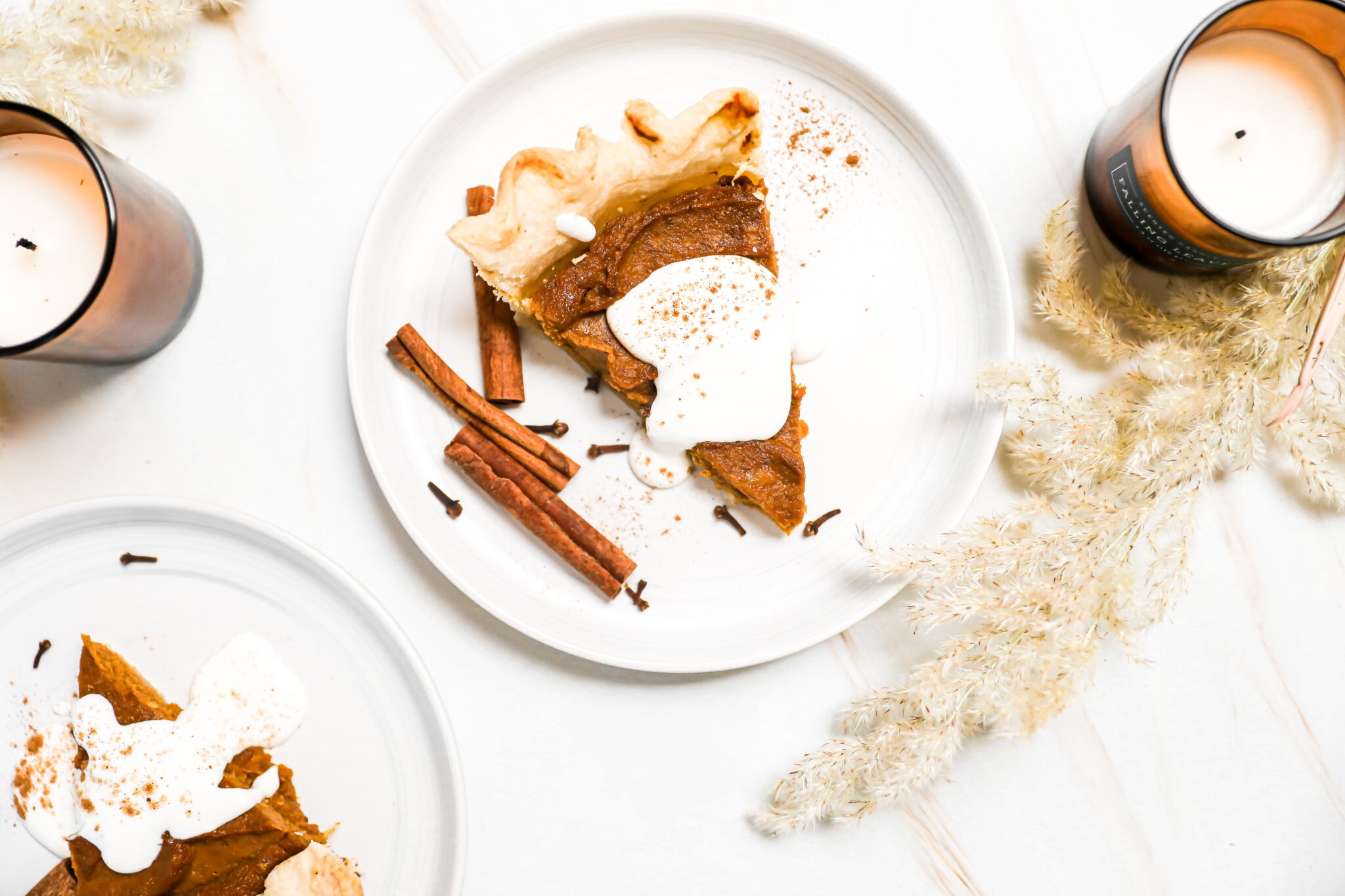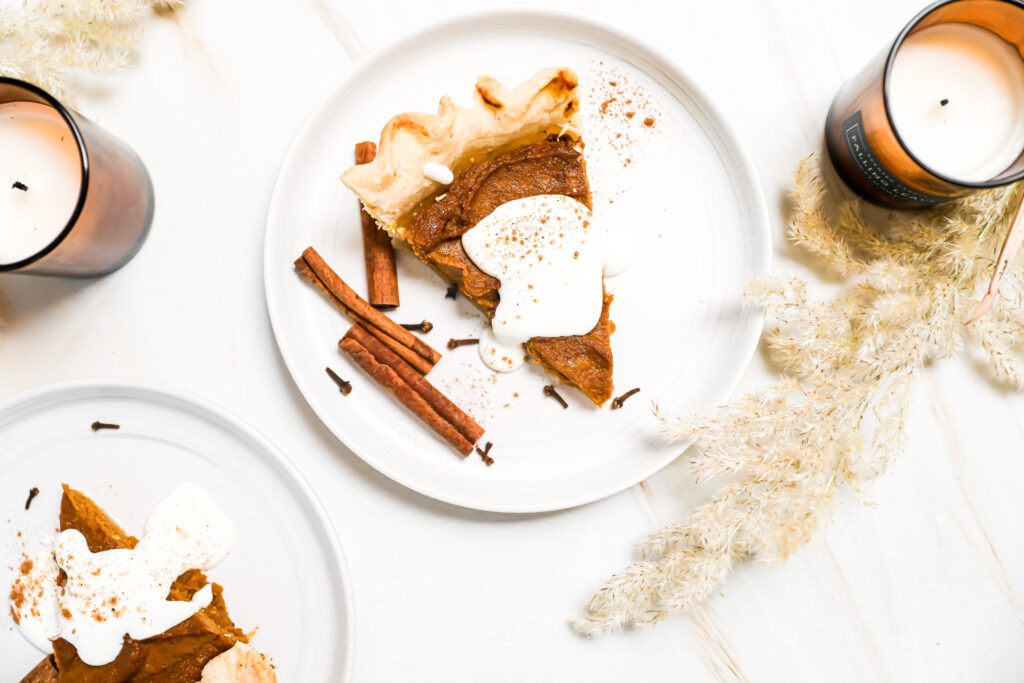 Refined Sugar Free Pumpkin Filling
As the name suggests, this pie is made super delicious by using pumpkin and dates. With no refined sugars, this is a great option for people looking for a low-glycemic option.
To sweeten the pie with dates simply...
Soak 6-8 large, pitted dates in warm water. This softens them so they will blend beautifully into our pie.
Taking the softened dates, put them in a blender or food processor with the pumpkin puree, spices, and 1 egg yolk, and 2 tablespoons of cream cheese.
Blend until silky smooth!
Pour into a par baked (slightly pre baked) pie crust.
So in addition to the dates, deep delicious flavor is added by a sprinkling of pumpkin pie spice and cardamom! I think you will love the addition of the cardamom but it is optional!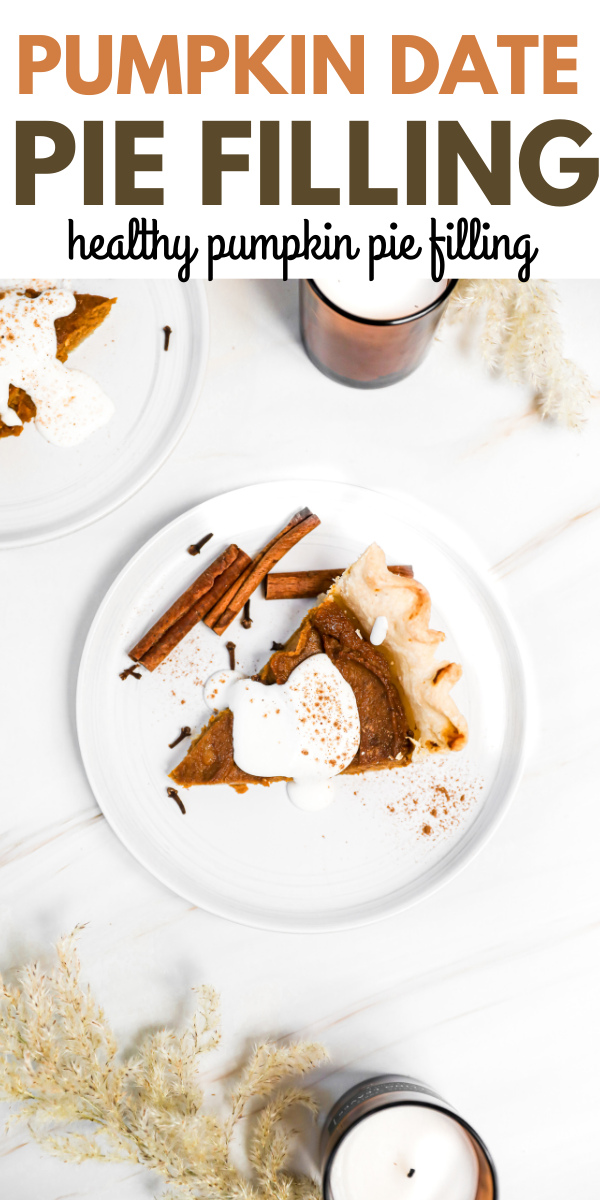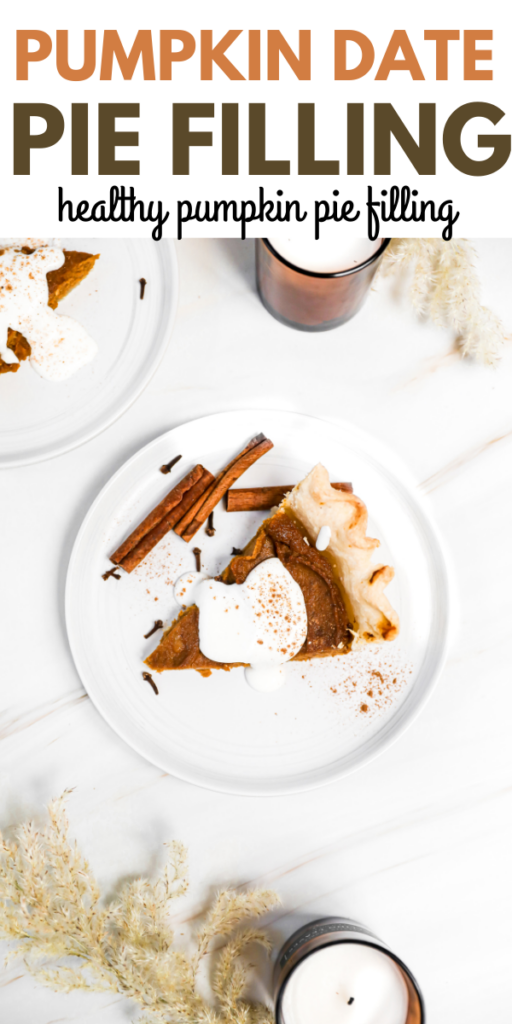 Make Ahead Pie
Can you make this pie ahead of time? YES! In my opinion all pumpkin pie's should be made ahead of time! Especially for the holidays. Don't stress yourself out.
Pumpkin pie is just as delicious after its been chilled (or even frozen!) and then brought back to room temperature.
This is definitely a pie you can make a day ahead of time and store in the fridge or freezer!
More Recipes To Enjoy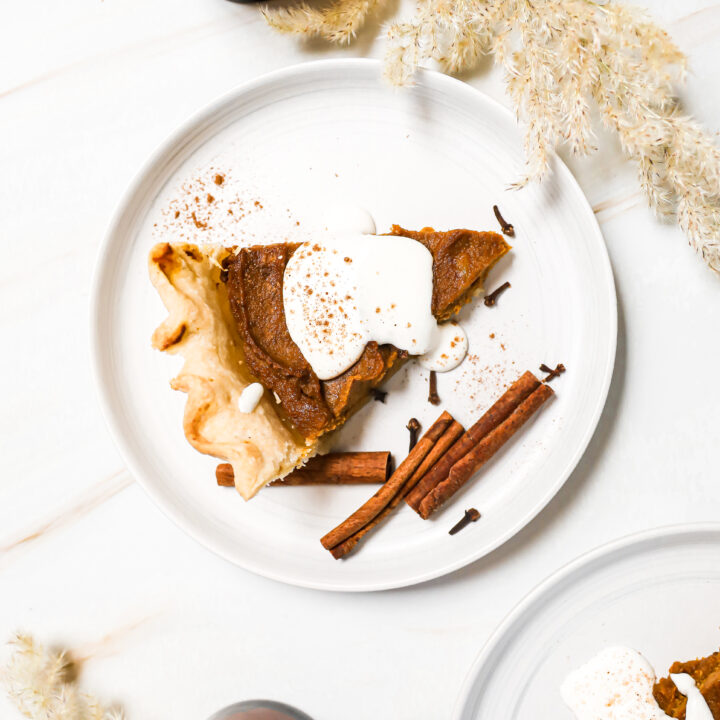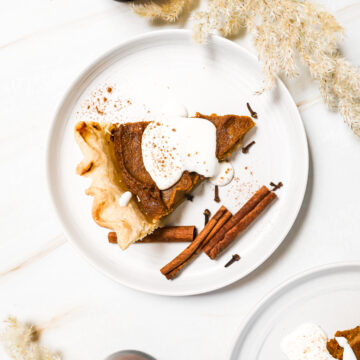 Pumpkin Date Pie FIlling
Delicious refined-sugar-free pumpkin date pie filling.
Print
Pin
Rate
Ingredients
1 15

oz

can of pumpkin puree

6

pitted medjool dates

Aldi has great ones in their produce section!

2

T

softened cream cheese

1

T

pumpkin pie spice

½

T

cardamom

Pinch

of salt

1

teaspoon

vanilla extract

1

egg yolk at room temperature

1

pie crust
Instructions
In a small bowl, soak the pitted dates for 5-10 minutes in warm water

When soft, add to a blender the can of pumpkin and the 6 dates, pumpkin pie spice, cardamom, vanilla, cream cheese, egg yolk, and pinch of salt.

Blend until silky smooth.

Pour into a pie crust and bake at 350 for 50 minutes.