All great desserts should be well balanced. Tart to sweet ratio needs to be perfect! I always find regular apple pie a little too sweet for my taste so I have made this Cranberry Apple Jam! It is a perfect pop tart filling that satisfies my need for that tart bite as well as the PERFECT crust to filling ratio.
Who's with me that there needs to be a LOT of crust to minimal filling? Just me? Well, either way the sweet cranberry apple jam filling will be your new favorite way to enjoy tart cranberries, sweet apples, and all of those cozy spices.
Cranberry Apple Jam
The first thing you want to do is dice your apples very fine. I like small pieces because we are putting these in a poptart and I don't want them to get too big.
Next it's as simple as combining all ingredients (dried cranberries, maple syrup, lemon juice, cardamom, cinnamon, and a pinch of salt and flour) into the saucepan. Let it simmer away for 10 minutes while the apples break down.
You may need to splash in some water to really help thicken up the flour that gets stuck to the apples. This is what makes that gooey-gooey texture to apple pie filling that we love!
How To Use Homemade Cranberry Apple Jam
In my opinion the best way to use this jam is to stuff it into cut out pieces of pie crust and eat it like a pop tart! This is super fun to have kids help with during the holidays and is a great treat as well.
Another way to enjoy it is smeared all over toast or a scone! You could try these Raspberry White Chocolate Scones and add some and it would be amazing!
You could totally can this and tie with a gorgeous ribbon as a gift.
But like I mentioned, my favorite way is to make Cranberry Apple Poptarts.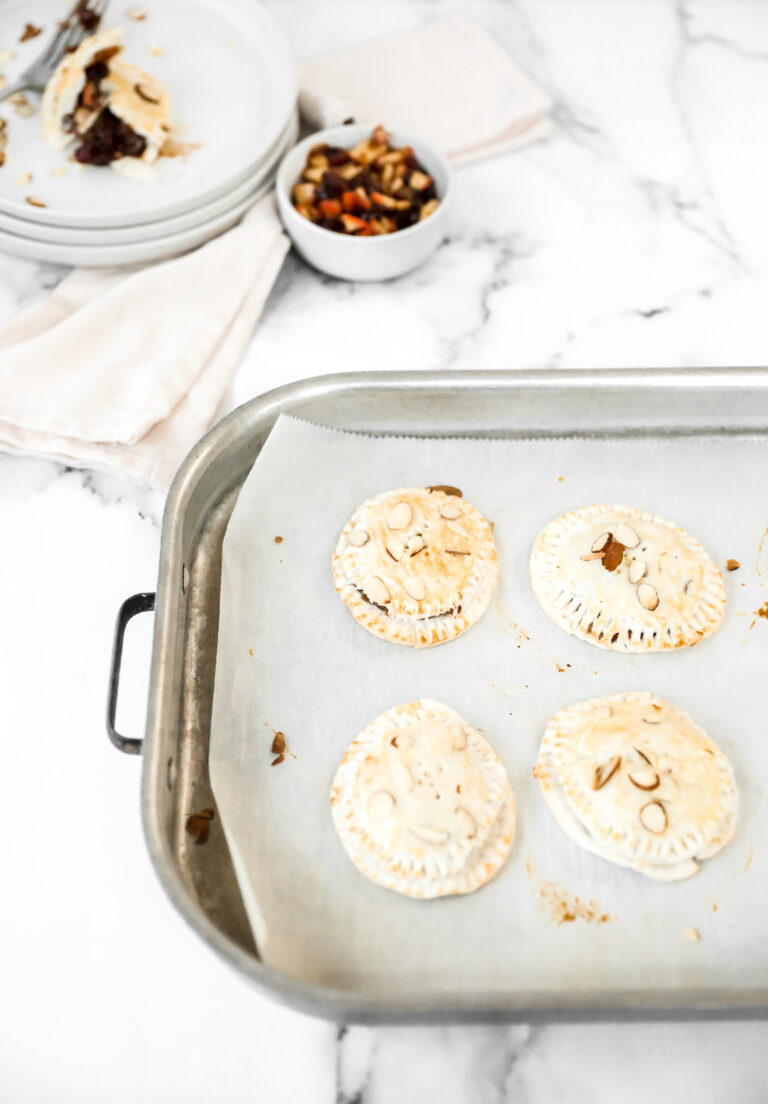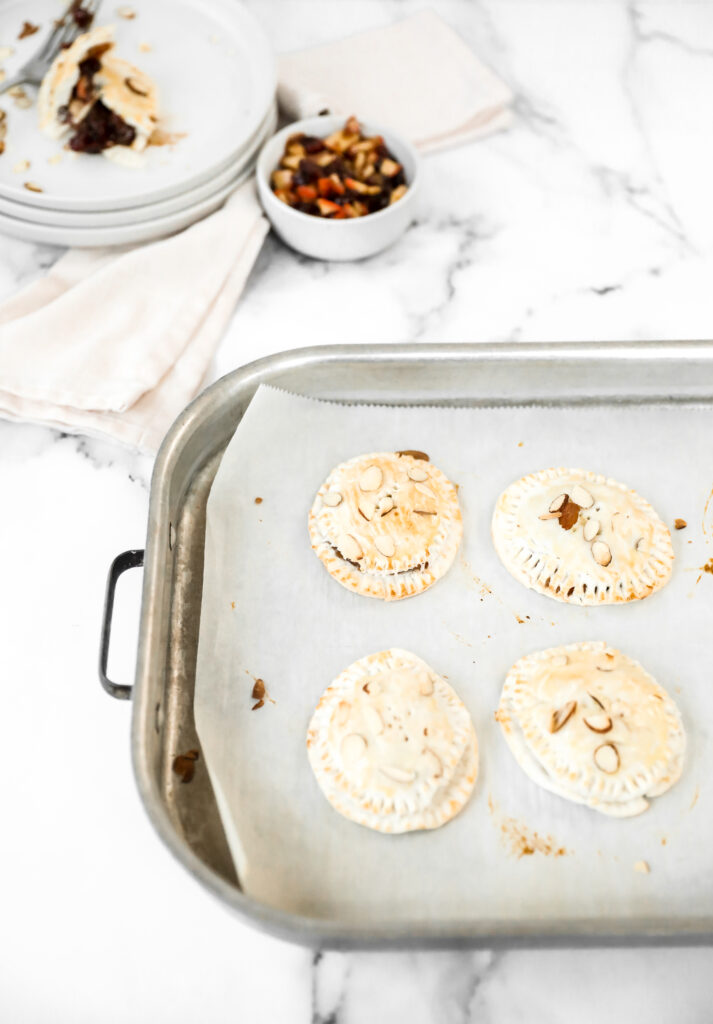 Best Pie Crust For Pop Tarts
I love a semi-homemade option. If I'm going to slave away over the stove to make Cranberry Apple Jam filling, I don't want to spend a ton of time on a homemade crust.
I used an Aldi refrigerated pie crust and used a round cookie cutter to make my shells. Simply fill with a tablespoon of filling and add another piece on top.
I've also used this recipe for a vegan poptart crust from The Fit Peach and was very pleased!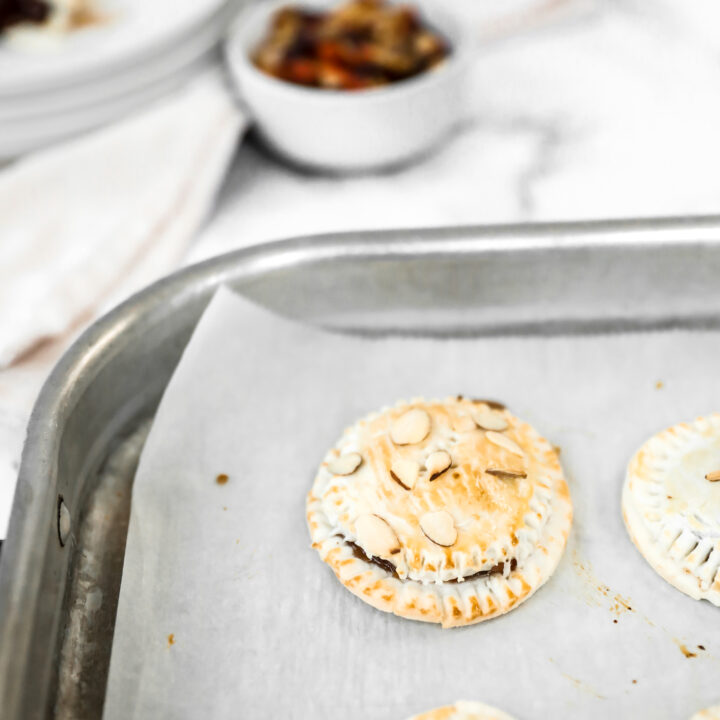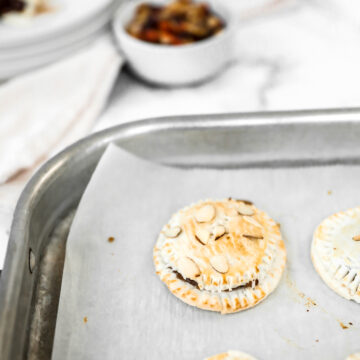 Cranberry Apple Jam Filled Poptarts
Easy homemade cran-apple jam that can easily be stuffed into homemade poptarts.
Print
Pin
Rate
Ingredients
1

apple

diced

1

cup

dried cranberries

1

Tablespoon

flour

pinch

of salt

1

tablespoon

water

1

tablespoon

lemon juice

2

tablespoons

brown sugar

1

teaspoon

cardamom

2

teaspoon

cinnamon

¼

cup

slivered almonds

1

egg yolk + 1 tablespoon water

1

package of 2 pre-made pie crust
Instructions
In a saucepan combine apples, cranberries, flour, salt, water, lemon juice, brown sugar, and spices. Bring to a bubble until the liquid in the pan starts to thicken.

Cook for about 10 minutes until the apples start to break down.

Preheat the oven to 425

Unroll both pie crusts and cut out 10 round pieces from each pie crust. I ended up cutting about 6 then rolled up the dough, re-rolled it out and cut out 4 more.

Repeat with the second pie crust.

Line a baking sheet with parchment and line up 6 pieces of dough. Add 1 to 2 tablespoons of filling to each bottom piece.

Sprinkle a few slivered almonds on each.

Add another round piece of dough and press the edges down with a fork to seal. Repeat until all pies are made.

In a small bowl combine the egg yolk with a splash of water. Brush on the top of the pies and top with a few more slices of almond.

Bake according to the pie crust instructions. Enjoy!