Do you have any Christmas morning breakfast traditions? I thought last year was a good year to start our because it was our little girl's very first Christmas. I spent a beautiful, sunny Christmas morning in the kitchen making a quiche, white chocolate raspberry scones, salmon toasts, and mimosas of course! I just remember it being so peaceful and pleasant. Monroe was just old enough to be able to sit up in her own chair and so she intently watched me prepare breakfast for all of us and we sat down and enjoyed a gorgeous Christmas morning spread. We talked and laughed about all the good memories of the year and how excited we were for the future.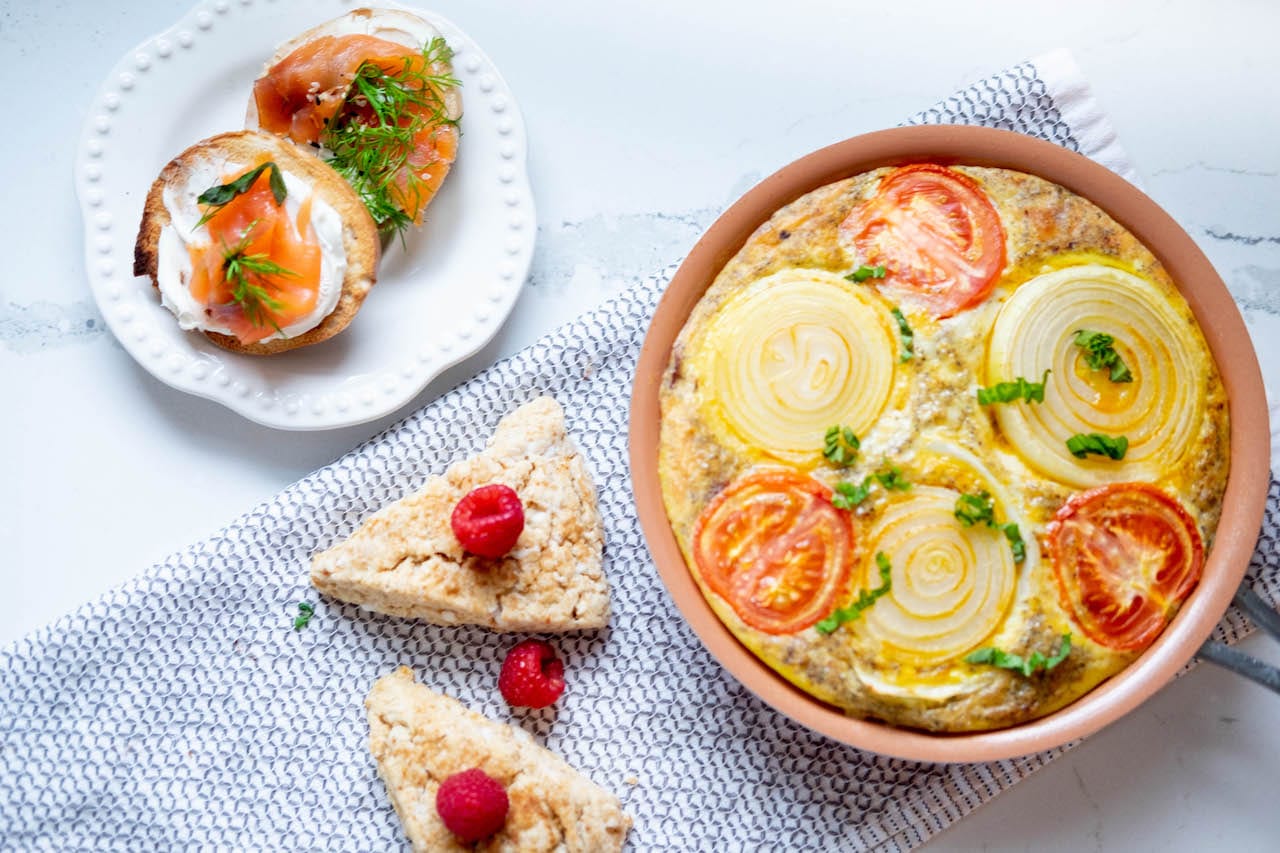 So, this year I want to recreate that feeling! Because that's what all these traditions are about anyways. Creating a feeling, a smell, a taste that brings you back to a special moment in time that you wish you could hold onto forever. For me, I will always be chasing the feeling of that Christmas morning! This year I'm making an easy egg and veggie quiche, my white chocolate scones with raspberry chia jam, salmon and dill toast, and a little bubbly mimosa!
Although now we have a very rambunctious toddler and not just a content baby. So maybe it won't be as peaceful but a mom can hope, right? So scroll down to see my spread and for my white chocolate raspberry scones with chia raspberry jam!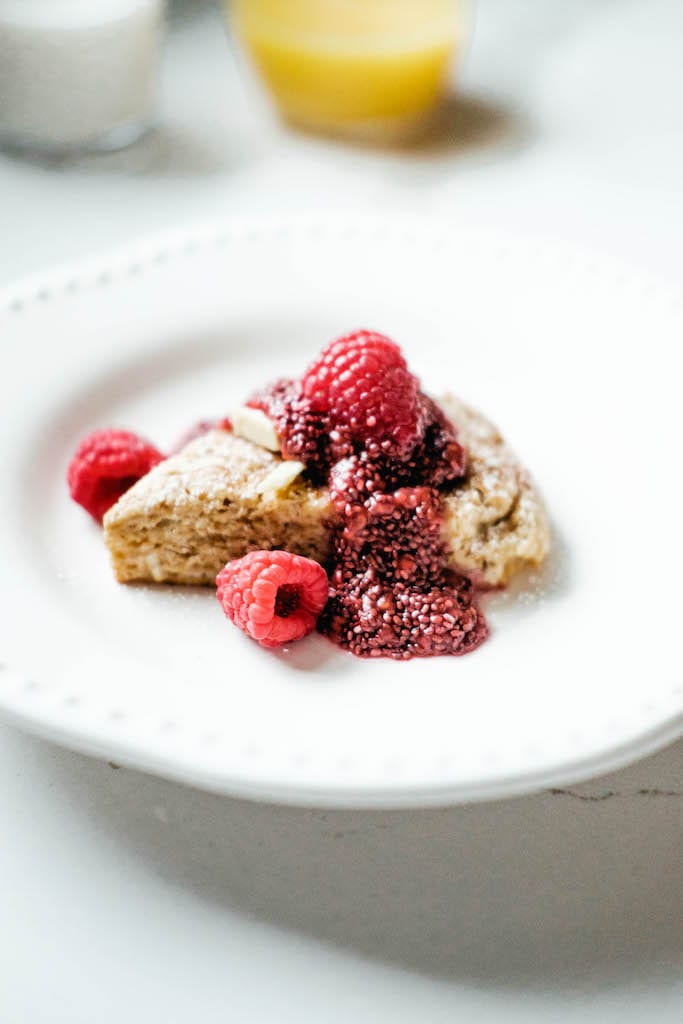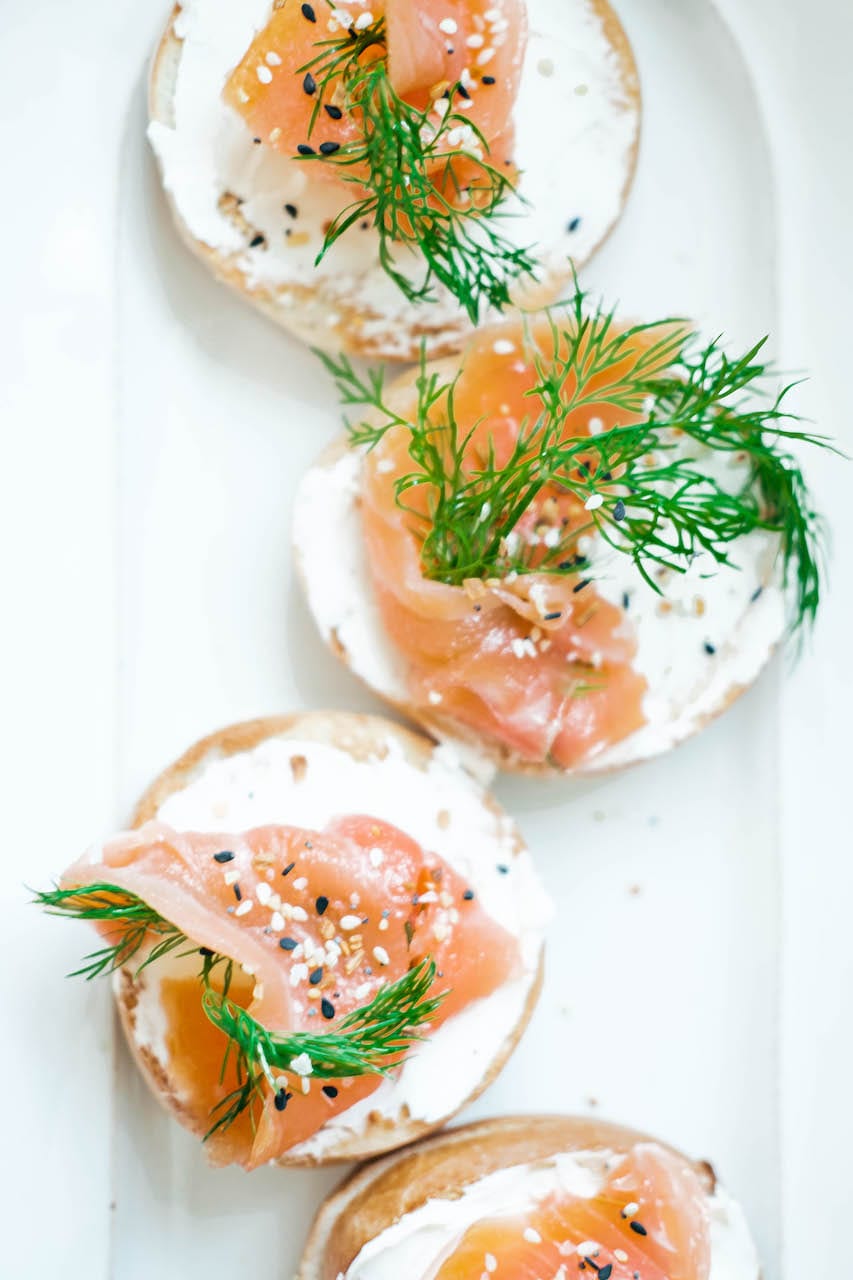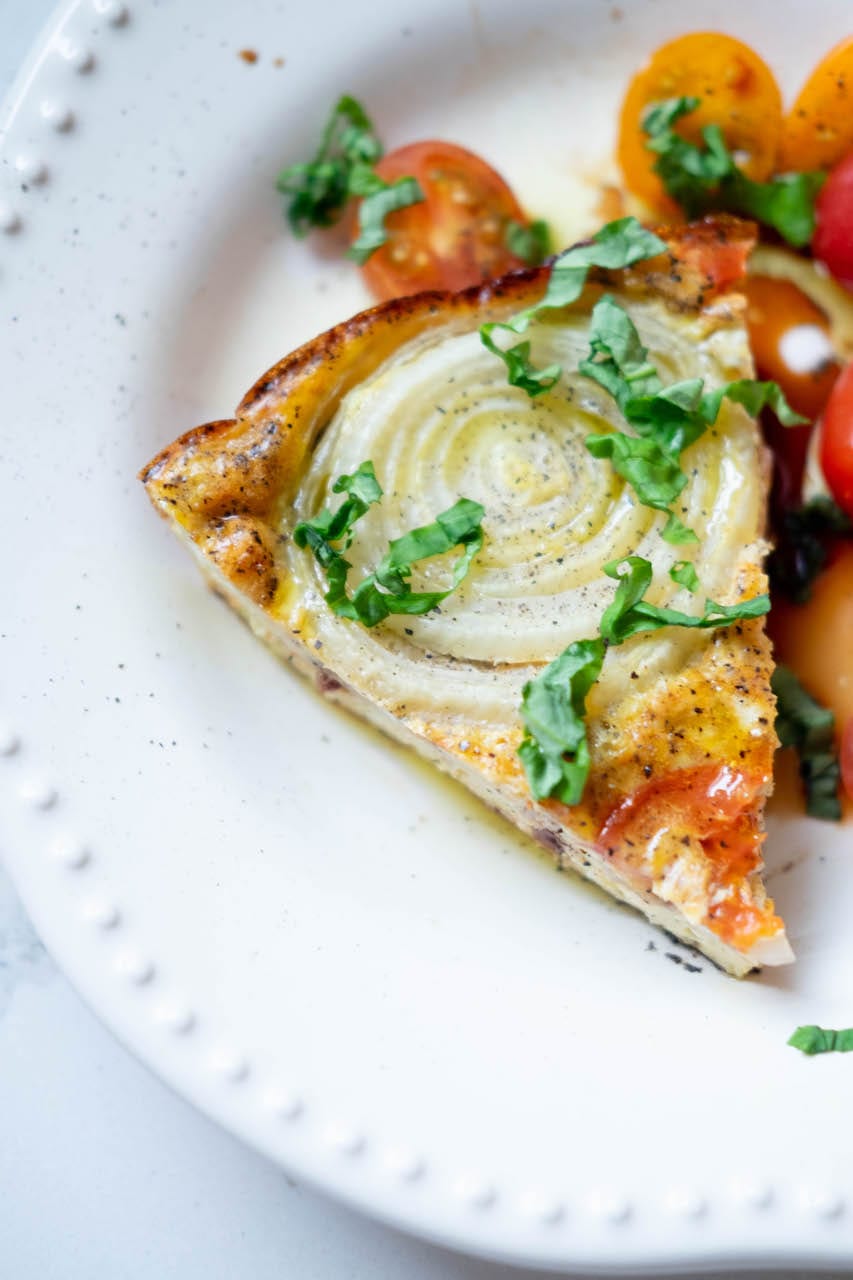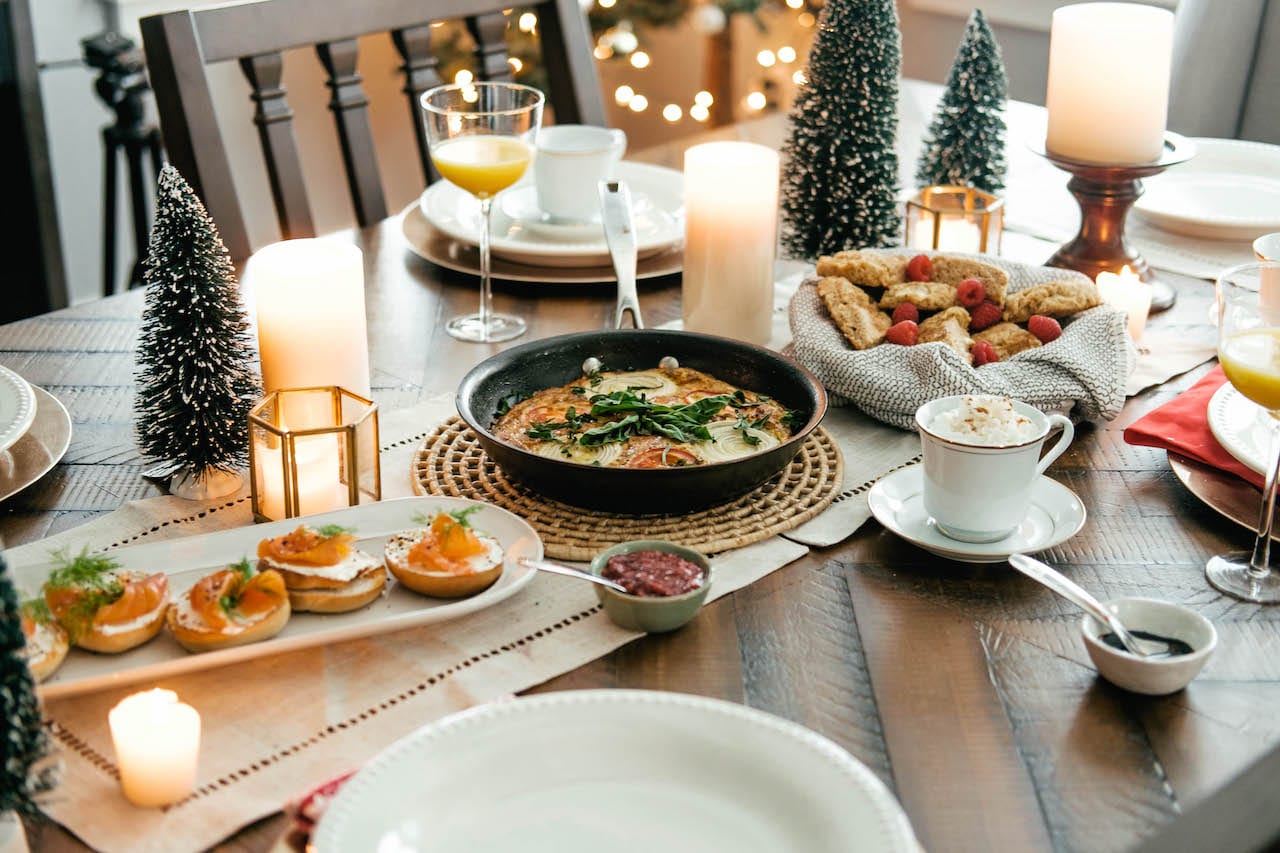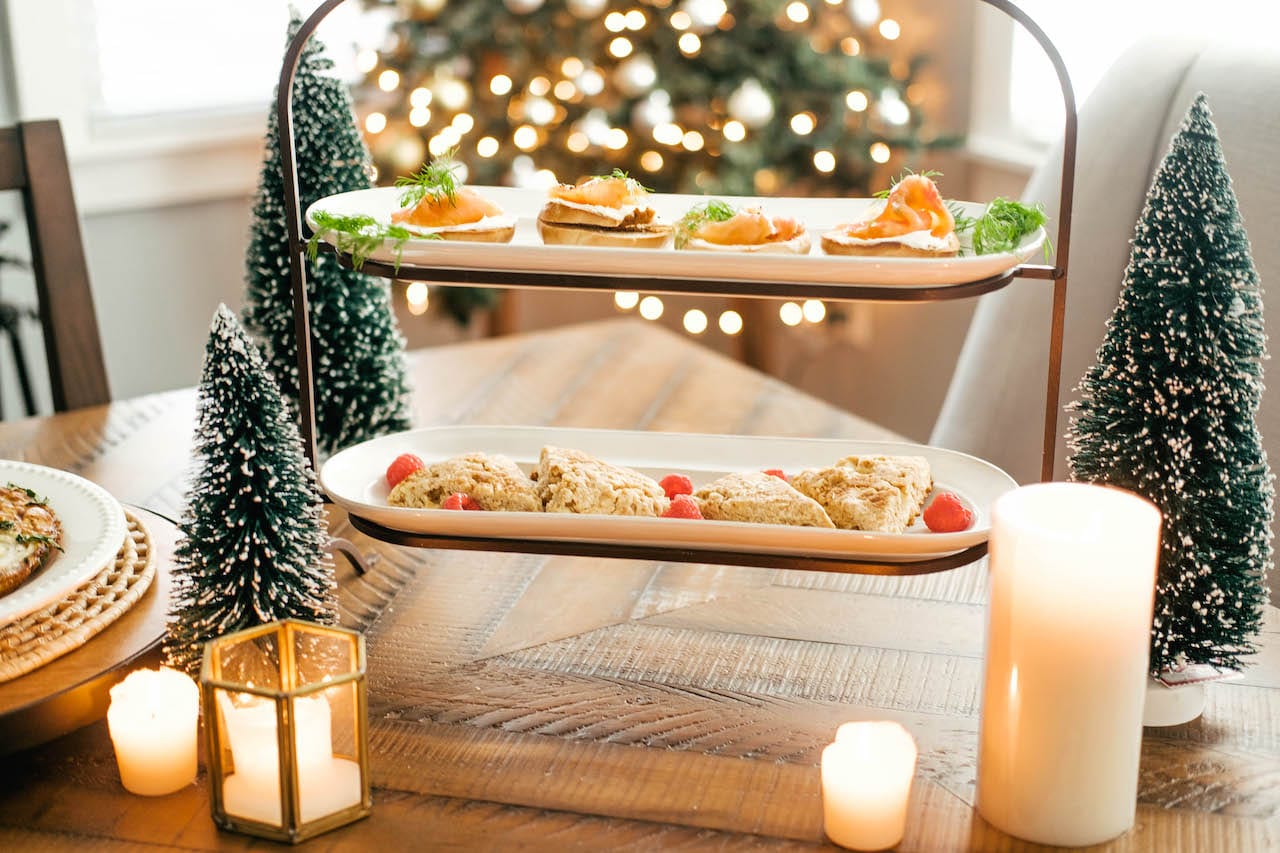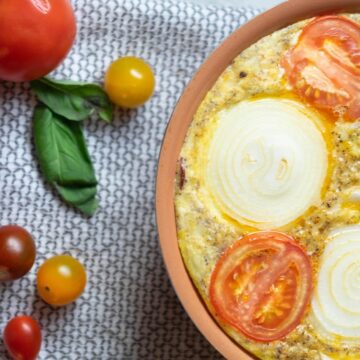 Ingredients
6

Eggs

4

Basil Leaves

1

Yellow Onion

2

Tomatoes on the vine

¼

Cup

Sun-dried tomatoes

1

cup

shredded parmesan cheese

1

teaspoon

salt

½

teaspoon

pepper

6

slices

turkey bacon or regular bacon
Instructions
Pre heat your oven to 350

Cook your bacon and let cool, then chop into small pieces

Crack 6 egg into a bowl and whisk together

Add in cheese, salt, pepper & stir to combine

Cut the onion in half, dice half of it and slice the other half into full circles

Sautee the onion in olive oil until translucent, add in ¼ cup diced tomato (one of the tomatoes off the vine) and ¼ cup sun-dried tomato cook 3 minutes

Grease up a pie pan or 8 inch fry pan with cooking spray or olive oil. Get it good! You want the frittata to slide out.

Pour in eggs then stir in tomato/onion mix as well as crumbled bacon. Top with circles of onion and thin slices of the 2nd tomato off the vine.

Pop into the oven for 40 minutes until cooked through

Top with basil and serve!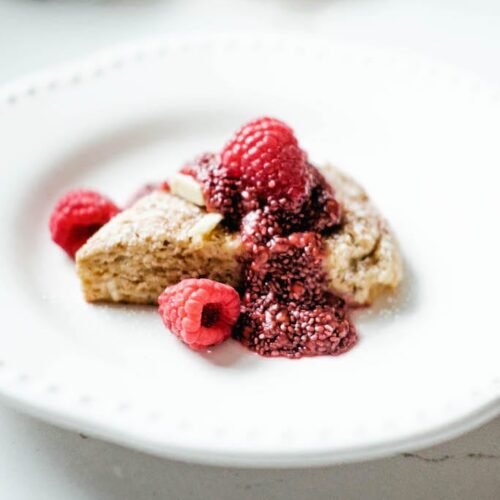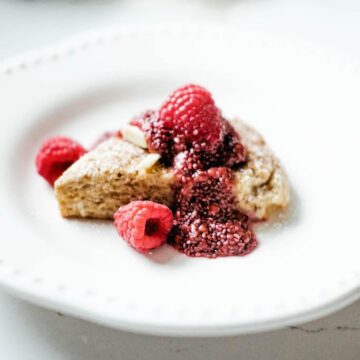 White Chocolate Scones with Chia Seed Jam
Easy scones that are perfect to stock the freezer with!
Print
Pin
Rate
Ingredients
2

cups

all purpose flour

¼

cup

coconut sugar

or regular sugar

1

tablespoon

baking soda

½

cup

almond milk

or regular milk

6

tablespoons

salted butter

cold!

¼

cup

white chocolate chopped up or chocolate chips

1

teaspoon

vanilla

¼

teaspoon

almond extract

1

tablespoon

coconut sugar for topping

JAM:

2

Tablespoons

chia seeds

1

pint

raspberries

¼

cup

water

2

Tablespoons

maple syrup

1

teaspoon

vanilla
Instructions
Make the jam first so it can cool and thicken. In a sauce pan combine water, raspberies, vaniila, and maple syrup.

Bring to a soft boil and crush raspberries into the liquid. Cook while simmering for about 5 minutes then remove from heat, stir in chia seeds

move to a small bowl or mason jar let cool and it will thicken up as it cools.

For the scones preheat oven to 350

In a food processor combine flour, sugar, baking powder, and butter. Pulse until it starts to look crumbly. About 10 pulses

Add in vanilla, almond extract and milk. Pulse about 5 times and check to see if the dough sticks together when you try to form a ball in your hand, If it does, you are done! If not, add a touch more milk.

Toss in chocolate and pulse 2 more times.

The dough will be extrmely crumbly but turn it out onto a floured surface and form a disk.

Flatten it out until it is about 8 inches in diameter.

Cut into 8 pie pieces

Arrange on parchment lined baking sheet and top with the 1 tablespoon of coconut sugar.

Bake 10-12 minutes and remove to let cool completely. Top with jam!