Welcome to my blog and Happy New Year! It was about this time last year that I started making baby steps, and I mean BABY steps, to a healthier me. On my year long journey with this lifestyle change I've made a list of healthy hacks that really helped me stay on track even on my hardest days.
I will preface this all by saying I am in no way a medical or licensed professional, I only know what worked for me and I'm happy to share just in case they can help you too. My tips are mostly common sense, but write them down or type them out and live by them! Remind yourself every single day.
Also going to add that no matter where you are starting in your journey, you are perfect & beautiful just how you are today! Keep scrolling for my hacks & snacks ?
5 Health Hacks
Eat on smaller plates. I like to eat out of a shallow bowl or even small dinner/salad plate. I can see that my plate is full and the smaller size makes it less likely that I will grab more than the correct serving size. If I finish my plate and still want more, then I go back for seconds! But instead of grabbing a huge plate, filling it, and feeling like you must finish it (cause I will) start small!
Replace your starch/carb at dinner with veggies. I'm not really sure why I always believed I needed to serve a potato, rice, pasta, or bread roll with dinner? Maybe because they are delicious! But do you NEED it? Probably not. Replace those simple carbs with your favorite veggie to go with your lean protein! I love roasted vegetables of any kind, cauliflower rice, or just a bed of arugula tossed with dressing.
Drink an entire glass of water before a meal. Again, this may seem like common sense. This may be one of the most helpful tips for me. It will help you gauge how hungry you really are and a little more water never hurt anyone, right?
Trade your weeknight wine/cocktail for Kombucha or hot tea. By limiting my alcohol intake to just the weekend I can greatly reduce my weekly calorie intake.
Have snacks prepared for when you get HANGRY. Whether you forget to eat breakfast, you just lose track of time, or your tantrum throwing toddler keeps you from being able to sit down and have a meal.. Have something prepped that you can grab and eat. My favorite options are overnight oats, turkey roll ups, or cucumber boats. See my list below for easy snacks!
5
Healthy Snacks
Cucumber + hummus + turkey boat

Cut a cucumber in half, hollow it out and fill it with your favorite hummus and topped with sliced turkey. Sprinkle with a little salt, pepper, and paprika!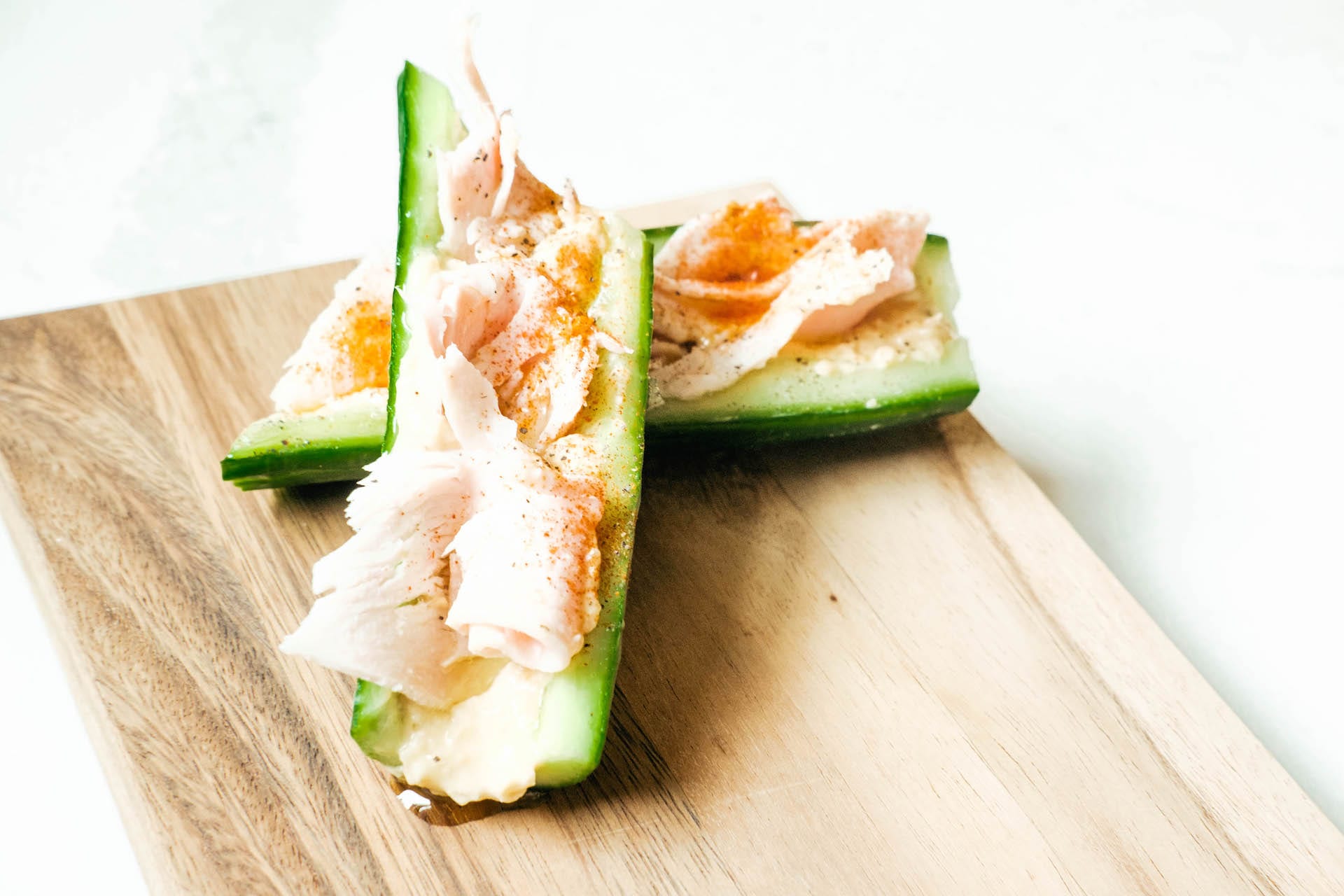 Mini Pepper "Nachos"

4-5 Mini peppers sliced in half, fill with Trader Joes Cashew Fiesta Dip, guacamole, black beans. Sprinkle with fresh cilantro and sliced red onion.
Cinnamon Mixed Nuts

Favorite mixed nuts sprinkled with cinnamon. Option to add a small amount of dried fruit!